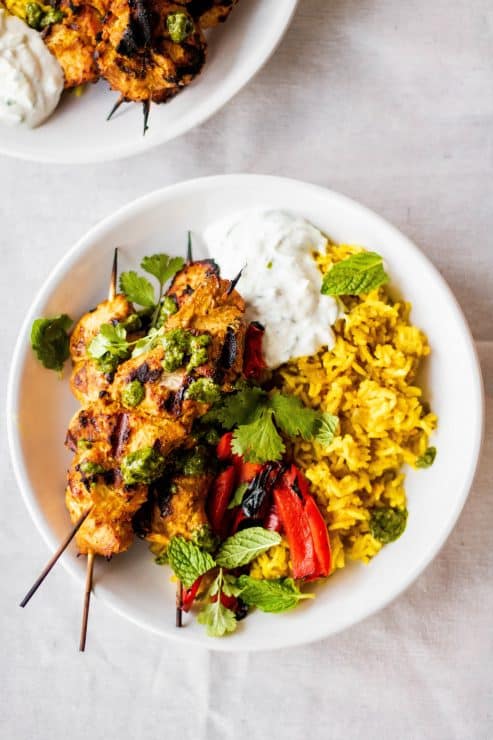 tandoori chicken bowls
tandoori chicken bowls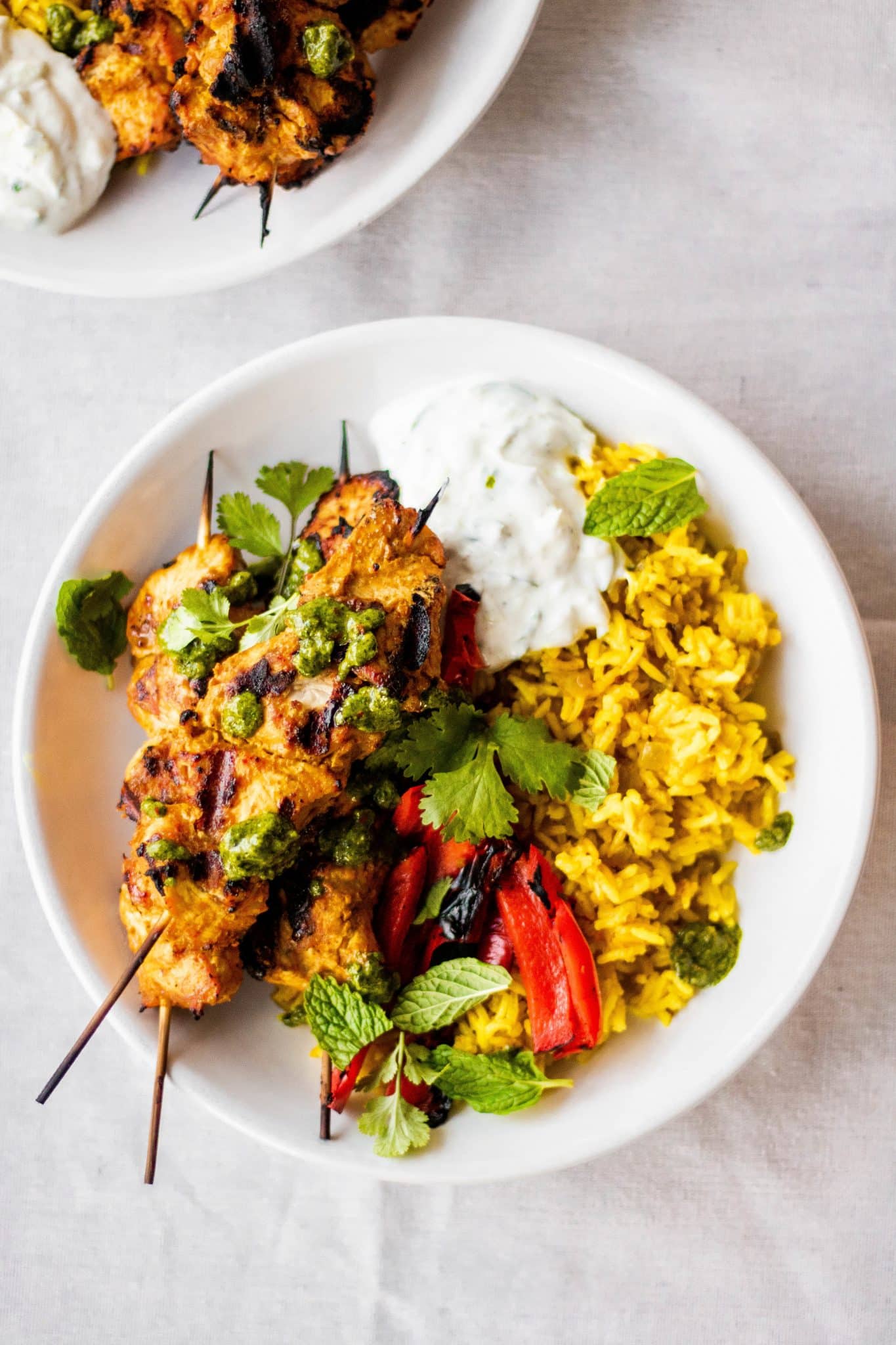 Where has the first part of the year gone?! It's already March?? January lasted a whole year and February lasted one second and now we're part of the way to summer. I don't know about you, but I'm already looking ahead at shedding my winter body in lieu of summer so I'm focusing on incorporating some lighter, bikini-friendly meals into my life. Hence these easy tandoori chicken bowls! Don't get me wrong, there will still be all the comfort foods that you love to see here, but also some healthier options as well. But that does not mean sacrificing flavor, EVER. If you dread eating "healthy" food, then whatever you are eating is probably lacking in flavor, texture and color.
Those are such important concepts for a recipe to be appealing and exciting. Obviously, flavor is the most important but we also eat with our eyes and if our food looks unappealing, we will be less inclined to eat it. I try to incorporate vibrant colors into my meals and it seriously makes all the difference. Especially in this dish! The vibrant green chutney with the bright yellow rice, some grilled red bell peppers for color and texture, the charred chicken. All those things come together in harmony for what amounts to be a meal that leaves us happy and satisfied. If that's one thing you take away from this blog it's to not be afraid to incorporate all the colors and textures into a meal. That's what a balanced dish is and all of those components are what make it great.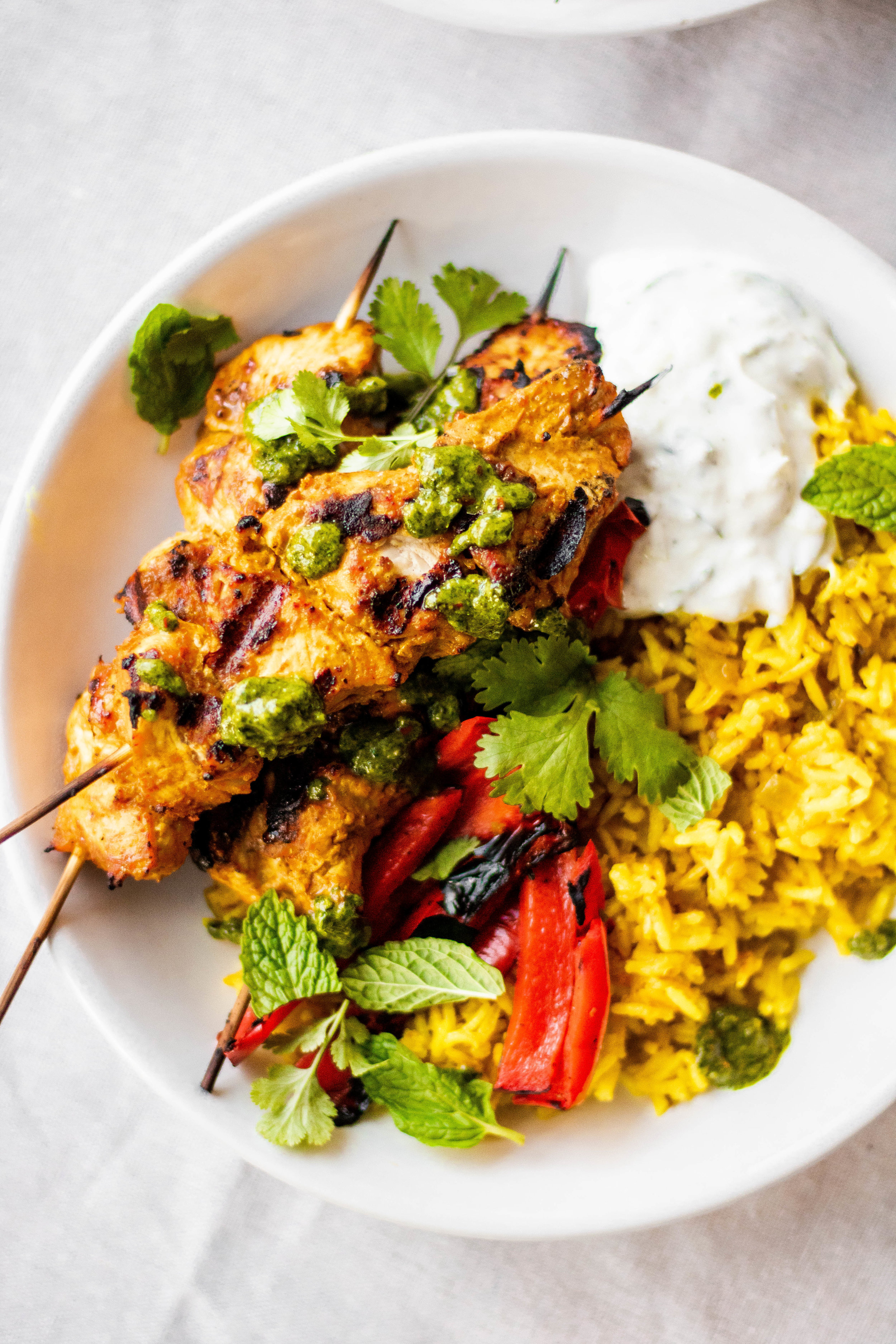 Now, I know it seems like this recipe has a lot of components so don't feel like you need to make them all in one go! I've just added my favorite sauces that I personally enjoy when it comes to Indian food. If it makes your life easier, go with store bought sauces! Trader Joe's Zhoug sauce is really similar to the green chutney and it is AMAZING. But I also love this bowl for meal prep because I can easily eat off this all week for lunch. When you grill the chicken, feel free to throw on your favorite veggies for some crunch and fiber (obviously I did red bell pepper, but not pictured was some grilled broccolini—my absolute fav).
If you have never made rice stovetop, don't fear! It is super easy. If you've got a rice steamer, you could also potentially make this in the steamer but I just worried about the turmeric staining the pot so I did it stovetop in a stainless steel saucepan. The trick for the rice is to cook it over as low heat as possible and after the initial 18 minutes cooking time, leave it covered off the heat for an additional 10 minutes. This allows the rice to finish steaming so it's nice and fluffy and not gluey.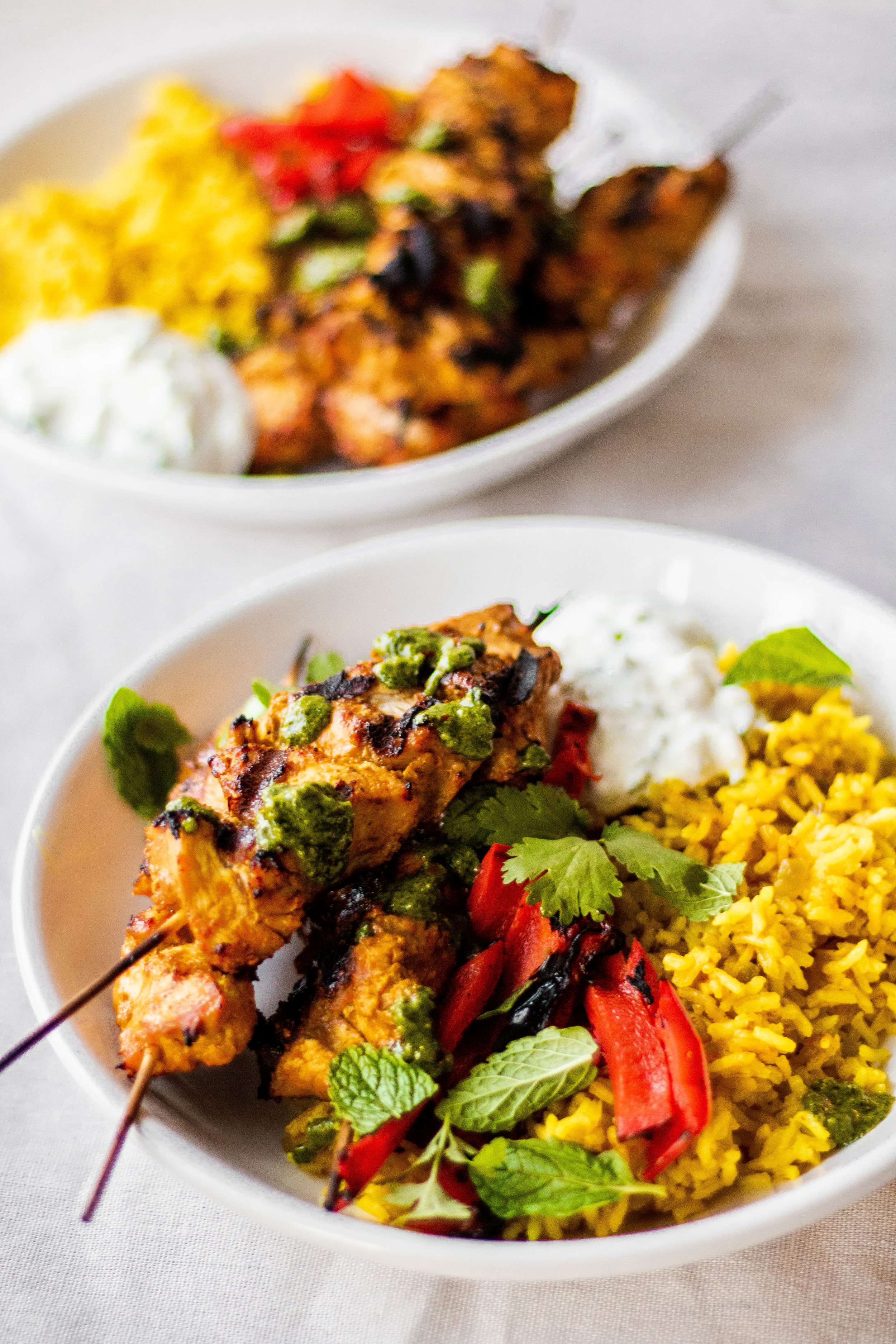 In terms of the marinade, if you are unfamiliar with tandoori chicken, it's a super popular Indian dish that is chicken in a yogurt marinade with tons of spices that is cooked in a very hot clay oven called a tandoor. Since I don't have the necessary equipment for true tandoori chicken, I've adapted the recipe as chicken skewers which can be done on an outdoor grill or a grill pan indoors. You could also bake them at a high temp in the oven, but I really love the char that comes from the grill. It adds such a nice smokiness to the chicken. And I know the recipe requires a ton of spices, so if you are missing a few I highly recommend checking out a local grocery store that has a bulk spices section where you can just buy as much or as little as you need. It's great for picking up spices that you don't use often without having to spend a bunch of money on containers of it that will go unused and take up space. Places like Sprout's (or Henry's), Whole Foods, some HEB's, etc. Bulk sections are a lifesaver! Happy cooking!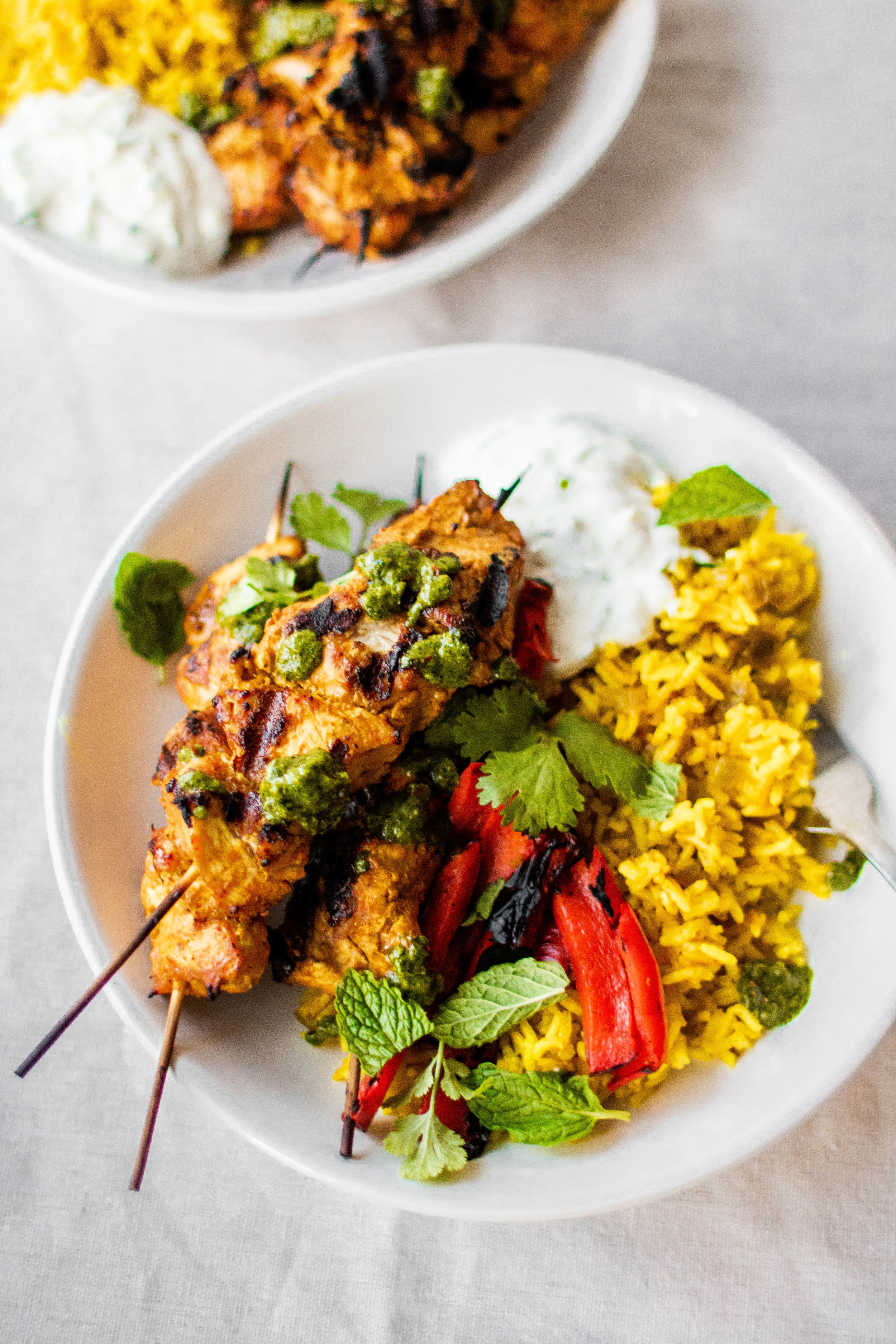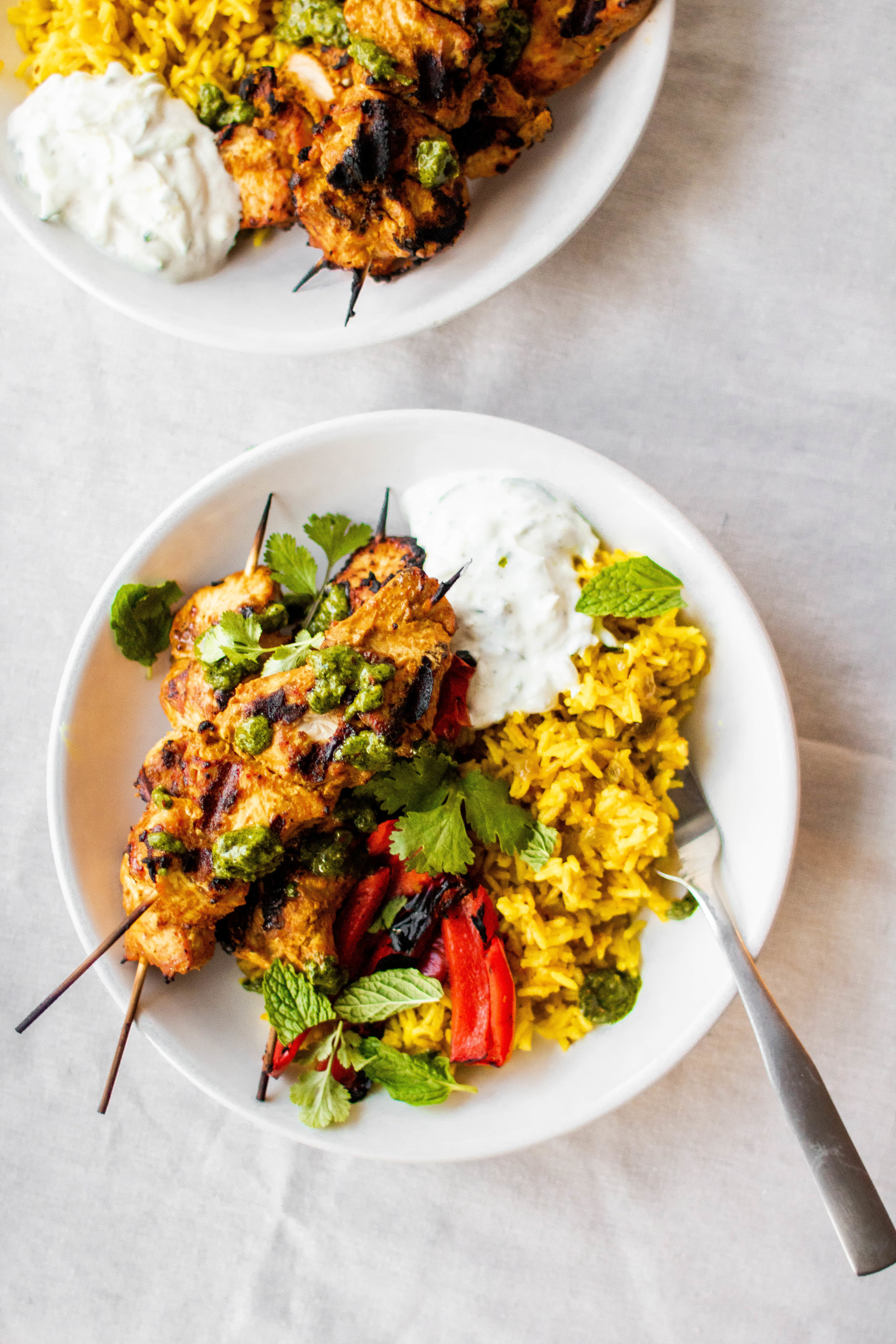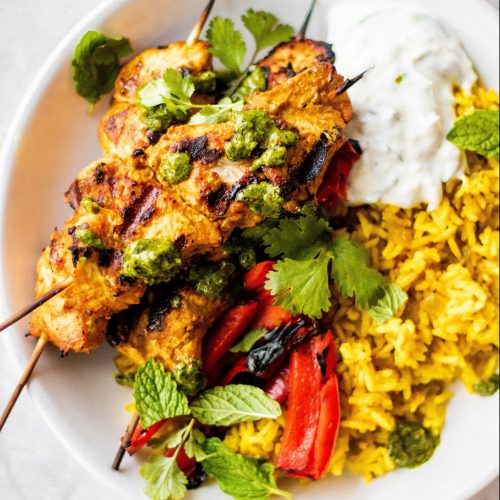 tandoori chicken bowls
Tandoori chicken is one of my favorite Indian dishes. It's so flavorful and tender and it's the star in these bowls.
Ingredients
Tandoori Chicken Skewers

4

large boneless and skinless chicken breasts

cut into 1 inch cubes

1 1/2

cups

2% fat greek yogurt

1

tablespoon

curry powder

2

teaspoons

paprika

1

teaspoon

garam masala

1

teaspoon

ground cumin

1/2

teaspoon

ground coriander

1

teaspoon

turmeric

1

tablespoon

tomato paste

1

lime

juiced

1

tablespoon

freshly grated ginger

3

garlic cloves

finely minced

2

teaspoons

kosher salt

1/2

teaspoon

ground pepper

12

bamboo skewers

soaked in water

Cumin-Turmeric Rice

1

tablespoon

neutral oil

1/2

red onion

diced

1

teaspoon

cumin seeds

1

teaspoon

turmeric

1 1/2

cups

long grain white rice

such as basmati

3

cups

water or broth

1

teaspoon

kosher salt

Spicy Cilantro Chutney

1

cup

cilantro leaves

packed

1/4

cup

mint leaves

1

garlic clove

chopped

1

teaspoon

crushed red pepper flakes

1

teaspoon

ground cumin

3

tablespoons

lime juice

1/2

teaspoon

kosher salt

2

tablespoons

olive oil
Instructions
To make the tandoori chicken skewers: In a medium bowl, mix together the yogurt and other ingredients (except the chicken and skewers) until smooth and all the ingredients are evenly dispersed. Toss the cubed chicken in the marinade and cover. Let the chicken marinate for at least 2 hours, but up to 8 or overnight.

Preheat an outdoor grill or grill pan over medium heat. Skewer 4-5 pieces of chicken on each skewer and set aside. Lightly oil the grill or grill pan and grill the chicken 3-4 minutes per side, covering the grill or pan between turning. Remove from grill and serve immediately with cumin-turmeric rice, cilantro chutney and cucumber yogurt sauce.

To make the cumin-turmeric rice: In a medium saucepan, heat oil over medium heat. Add onion and cook 3-4 minutes until softened. Add cumin seeds and turmeric and cook 1 minute. Add rice and toss in the spices so all the grains are coated. Add water or broth and salt and bring to a simmer. Reduce the heat as low as it will go, cover and cook for 18 minutes. Remove the rice from heat, and leave it covered for another 10 minutes. Fluff rice with a fork and serve immediately.

To make the cilantro chutney sauce: Place all the ingredients, except for the olive oil, in a food processor. Process until all the ingredients are finely chopped. Add the oil and pulse until combined. Transfer to a bowl and use immediately. Can be kept for 2 days, covered, in the fridge.
Notes
If you find that you don't have some of the spices needed in the recipe, visit your local grocery store with a bulk section. You can buy just as much of the spices as you need for a fraction of the cost of a container.
You might also like...