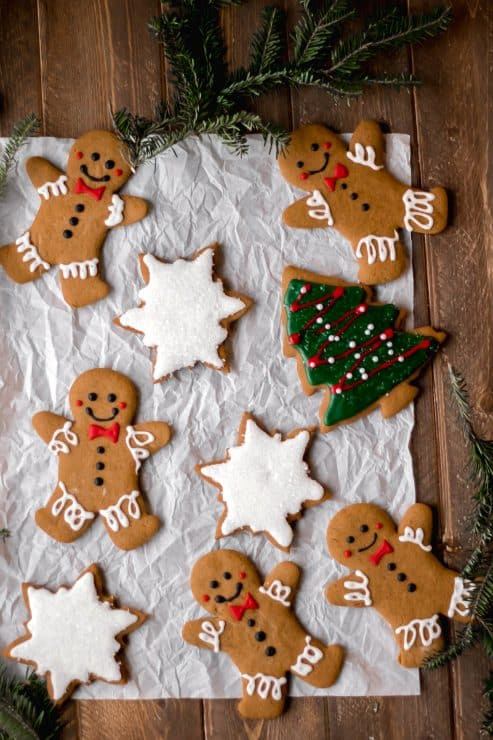 soft gingerbread cookies with cream cheese icing
soft gingerbread cookies with cream cheese icing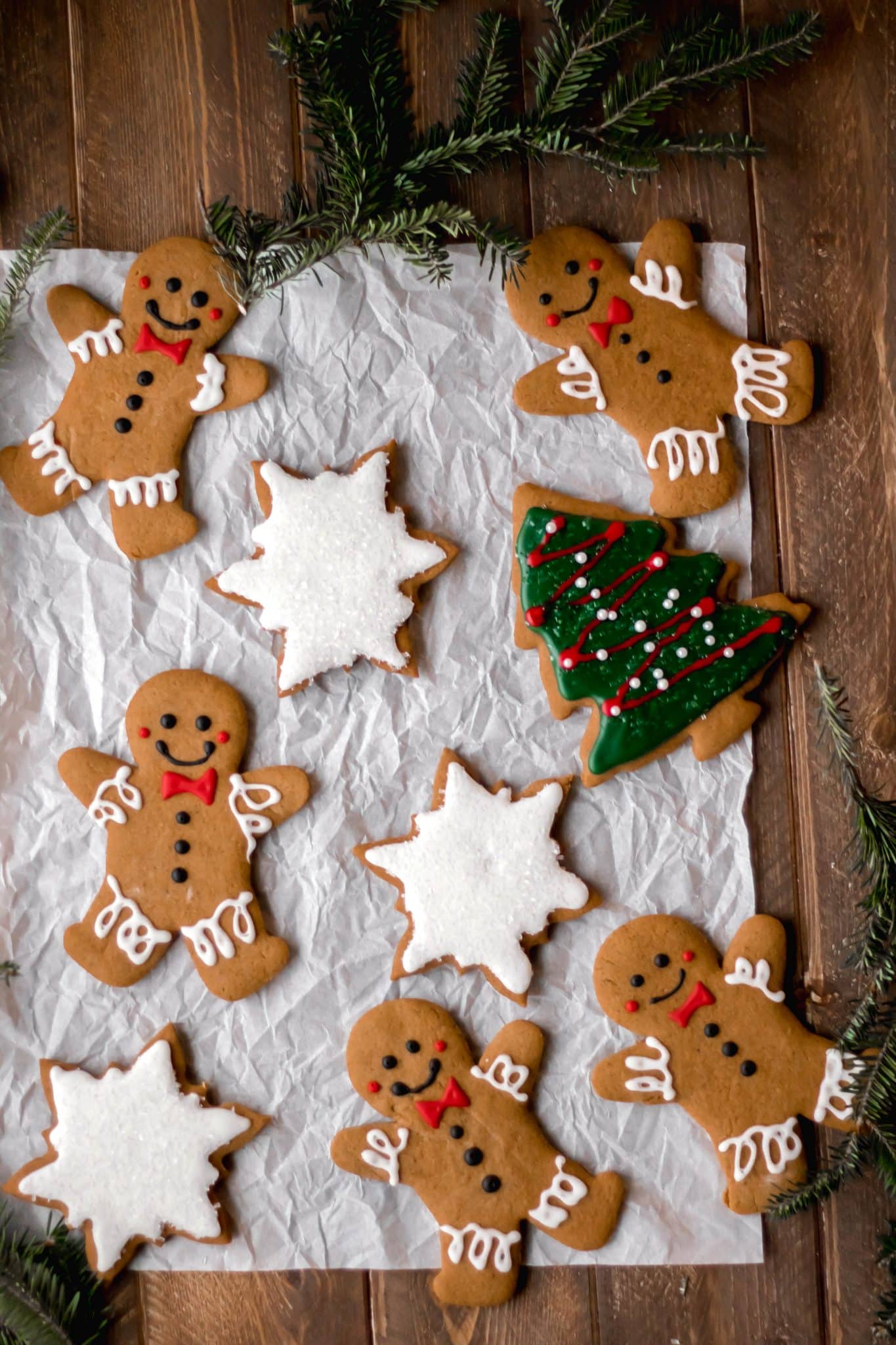 To me there is nothing more quintessential holidays than baking and decorating cookies. I grew up baking multiple batches of different cookies every year to give to friends and family. While we made a ton of different varieties, my favorite was always super soft gingerbread cookies.
I loved decorating the little cookies and they were always tastier compared to sugar cookies, in my opinion. These are the perfect cookies for decorating (and eating)! They aren't too heavy on the gingerbread spice, they are sturdy but soft, and they will make your house smell amazing while baking. Is there anything better than the smell of cookies baking?
This recipe is so simple and fun to make and great for getting together with your kids or friends to put together. Because the dough is fairly sticky, it really does need some time in the fridge so that it's easier to work with. I recommend chilling the gingerbread cookie dough overnight, but if you're in a crunch, make the dough in the morning, chill it, and then decorate in the afternoon.
The icing recipe is the best because normally to me, just powdered sugar and milk tastes like pure garbage. I hate the taste of powdered sugar on its own. However, the cream cheese really adds some nice texture and helps to get rid of that cloying sweetness. Plus, the icing won't dry rock hard and start to crack. It'll be dry to the touch but still soft. Win! I like to get into the decorating so I chose a few different shapes and dyed the icing accordingly.
I'm also a huge fan of the sparkling sugar and little sugar pearls on the cookies for extra cuteness. I can't help myself, I'm a sucker for cute shit. If you're really brave (and have infinite patience), this dough would also work well for making gingerbread houses. You're on your own for those instructions though—patience isn't my strong suit and that house would 100% end up thrown against my kitchen wall. Happy baking!
Products used in this recipe:
soft gingerbread cookies with cream cheese icing
Gingerbread is one of my favorite flavors and so soft gingerbread cookies are always my favorite to bake during the holidays!
Ingredients
Gingerbread Cookies

2

sticks unsalted butter

at room temperature

2/3

cup

brown sugar

2/3

cup

unsulphured molasses

2

eggs

1

teaspoon

vanilla extract

1

tablespoon

ground ginger

1

tablespoon

ground cinnamon

1

teaspoon

ground cloves

1/2

teaspoon

ground allspice

4

cups

flour

pinch

of salt

1

teaspoon

baking soda

Cream Cheese Icing

4

oz

cream cheese

at room temperature

3

oz

light corn syrup

4

cups

powdered sugar

1/4

cup

half and half

1

teaspoon

vanilla extract

gel based food coloring
Instructions
In the bowl of a stand mixer, cream together butter, brown sugar and molasses until fluffy. In a separate bowl whisk together flour, baking soda, salt, cinnamon, ginger, cloves and allspice and set aside. To the creamed butter and sugar, add eggs and vanilla and beat well. If the mixture looks curdled, that's okay, everything will come together when you add the flour. Add the flour mixture all at once and mix on low until the dough just comes together. Divide the dough into two discs (it will be sticky, that's okay) and cover tightly with plastic wrap and refrigerate overnight (or at the very least 3 hours).

Preheat an oven to 350 degrees F. Once the dough has chilled, remove one disc from the fridge and liberally flour your work surface, the dough and rolling pin. Roll dough out to about 1/4" thick. Line 2 baking sheets with parchment paper or silicone mats. Using a 5" cookie cutter, cut out as many cookies as you can and place them on the prepared trays. You can bring the dough back together and roll it out again twice, but after that discard any scraps. Bake cookies for 10 minutes. Cool slightly before removing from the tray and cool completely before decorating. Repeat with remaining cookie dough until all cookies have been baked.

To make icing: beat together cream cheese, corn syrup and vanilla extract until smooth. Add powdered sugar and mix until combined. Add just enough milk for the icing to be pipeable (you don't want it to be runny). Divide icing and add desired coloring. Transfer to piping bags and decorate! Use sparkling sugar and pearls for added cuteness.
You might also like...