chicken and kimchi fried rice
chicken and kimchi fried rice
Leading up to Thanksgiving, all I want are the simple weeknight meals. I spend so much time planning and preparing for the big day, that when it comes to dinner I need quick, easy and tasty. So this recipe for chicken and kimchi fried rice recipe totally fits the bill. And Pro tip: you can substitute leftover turkey for chicken if you're trying to use up t-day leftovers! It's a win-win situation.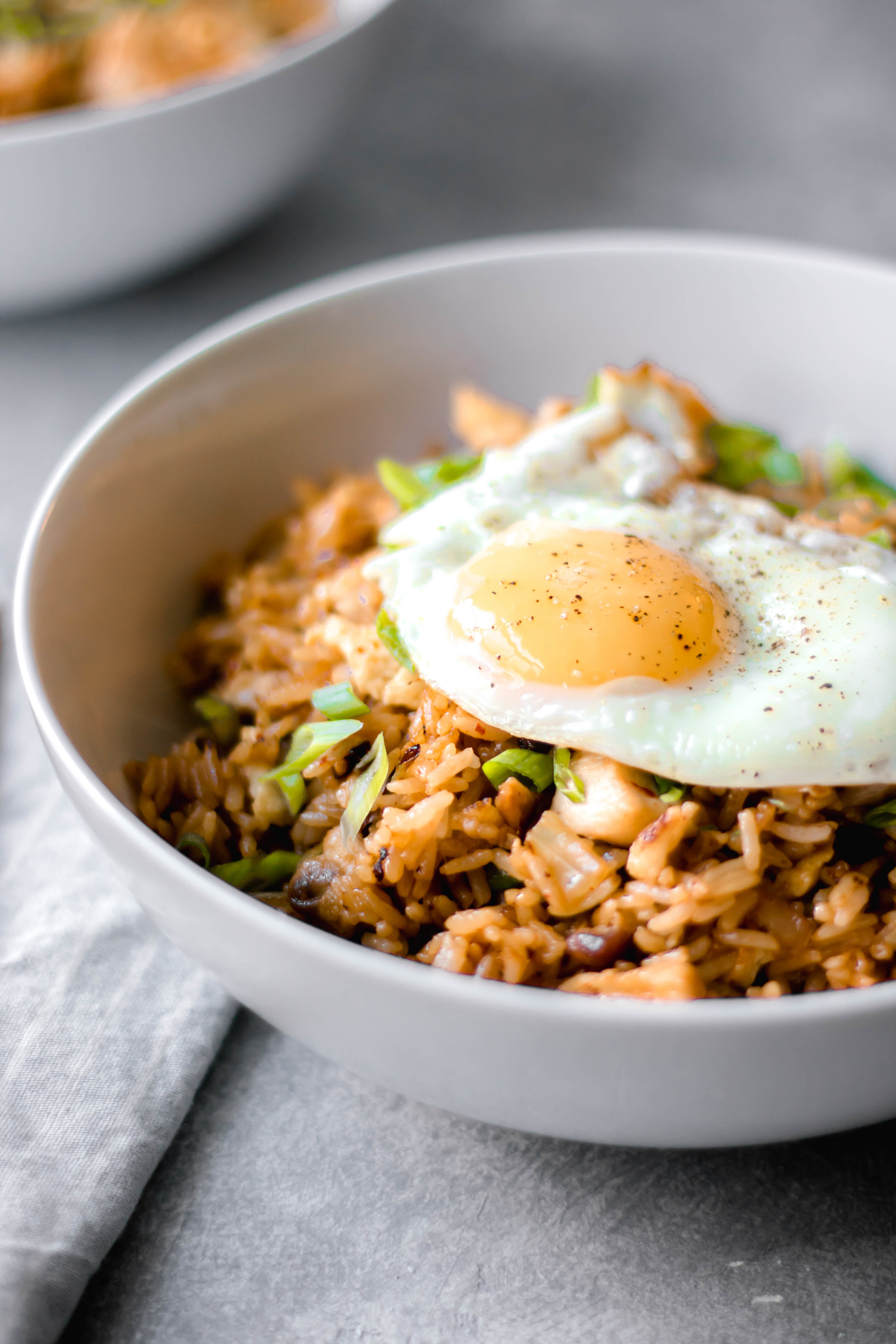 If you've never had kimchi, it's like the more pungent cousin to sauerkraut. It's fermented cabbage with korean chili paste and has incredible health benefits for your gut including a whole host of probiotics. And as much as I care for eating healthy, it's also just delicious. Spicy and tangy, it adds tons of flavor to fried rice and some nice crunch for texture. If you're absolutely adamant about kimchi-free life, you can omit it and maybe add some sauteed cabbage instead.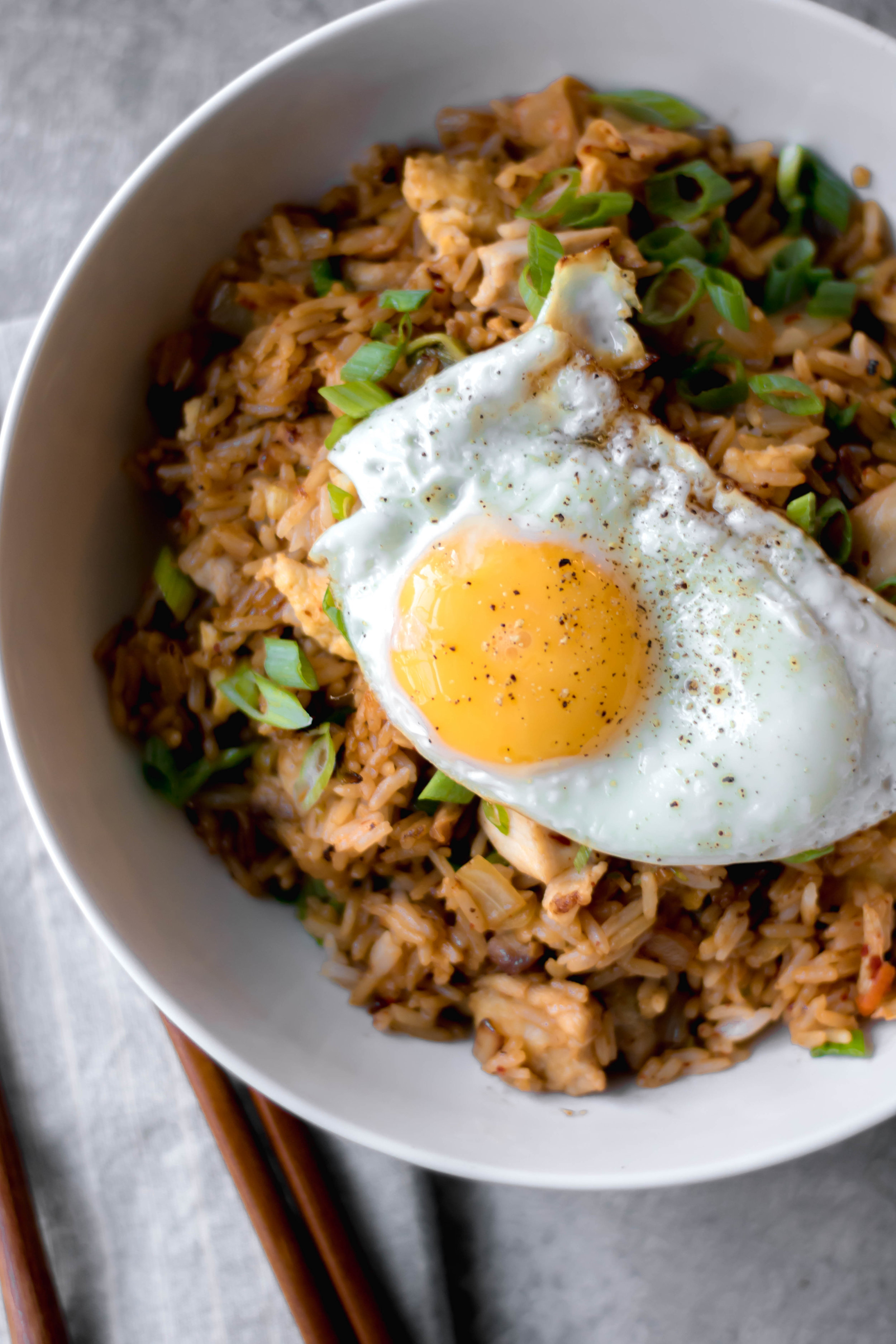 Happy almost Thanksgiving, hope this easy meal makes your week that much easier and tastier!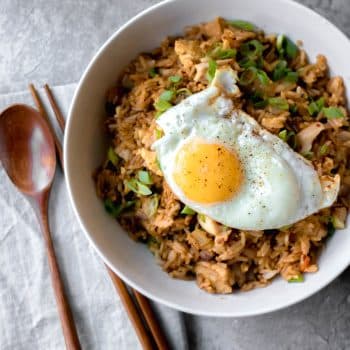 chicken and kimchi fried rice
If you are in need of a quick weeknight meal that can use up random stuff in the fridge, this kimchi and chicken fried rice is perfect!
Ingredients
Sauce:
1/4

cup

soy sauce

1

tablespoon

hoisin sauce

1

tablespoon

oyster sauce

1

teaspoon

sesame oil

2

teaspoons

freshly grated ginger

1

teaspoon

chili oil or chili sauce

Fried Rice

5

cups

cooked long grain rice

1

lb

boneless

skinless chicken thighs cut into small pieces

1/2

yellow onion

diced

1

bunch green onions

sliced, white and green parts separated

3

cloves

garlic

sliced

1

tablespoon

neutral oil

1 1/4

cup

kimchi

chopped

2

eggs

plus more for fried eggs on top if desired, beaten

2

carrots

diced
Instructions
Combine sauce ingredients in a small bowl and set aside.

In a large nonstick skillet or wok, heat oil over medium high heat. Add diced onion, carrot, and white parts of green onion to the pan, stirring. Add chicken and sliced garlic, and cook for 3-4 minutes, stirring frequently to avoid burning the garlic. Add the rice to the pan and stir to coat the rice with oil. Push all the rice and other ingredients to one side of the pan and pour the eggs onto the exposed side of the pan. Cook for 2-3 minutes until egg is cooked through. Using a wooden spoon, break up the cooked egg into bite sized bits and stir all the rice with the egg. Add the kimchi and stir fry sauce and cook until liquid has absorbed. Season to taste with salt and pepper. Serve topped with sliced tops of green onions and a fried egg if desired.
Notes
You can add any additional veggies to this fried rice that you may need to use up!
You might also like...