30+ Valentine's Day Dinner Ideas
30+ Valentine's Day Dinner Ideas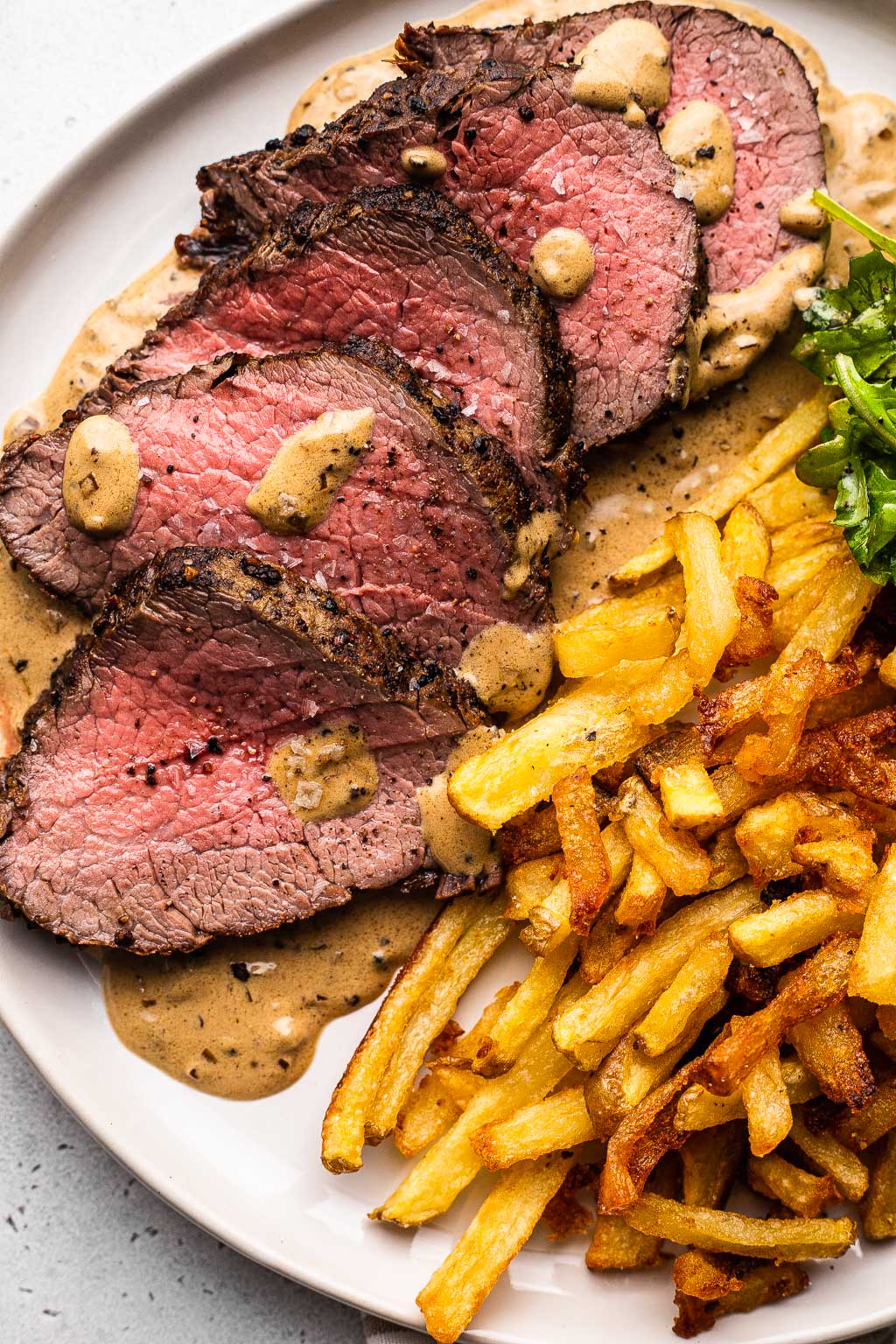 Whether this is your first or 10th Valentine's Day with your someone special, you've probably already given some thought to your Valentine's Day Dinner Ideas. These Valentine's Day Dinner Ideas are perfect for creating a romantic date night dinner at home.
The best part? Anyone, and I do mean anyone, can make these recipes at home. No matter what your favorite cuisine is, there's something for everyone. Here are our favorite ideas for a special Valentine's Day Dinner at home!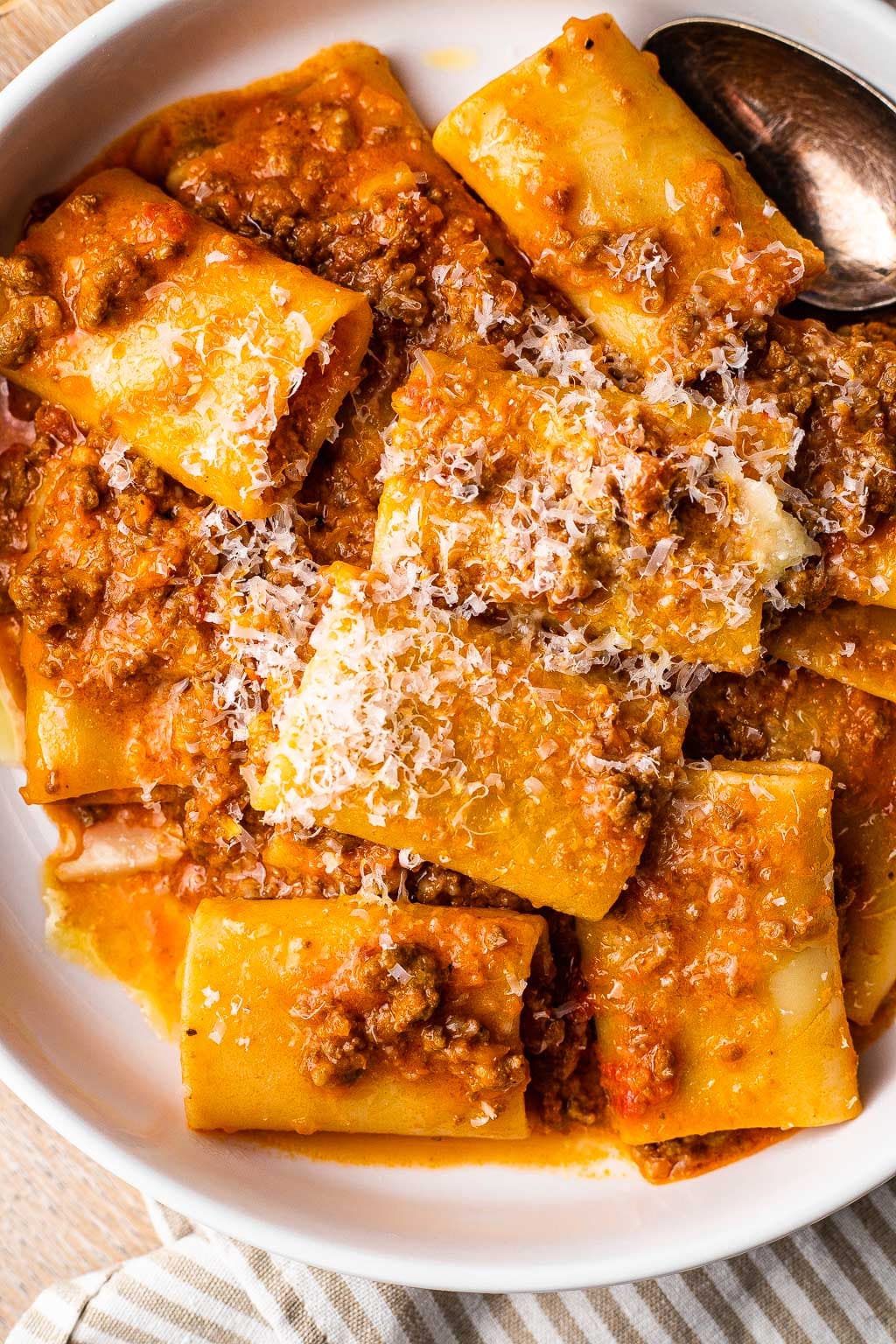 What makes a good Valentine's Day Dinner?
You may be asking yourself, "What makes a good Valentine's Day Dinner?" That's easy! The only thing you need to make a great Valentine's Day Dinner at home is to take into consideration what you and your partner enjoy.
These Valentine's Day Dinner Ideas are here to help inspire you so that you can put together a delicious and meaningful menu. Did your date once mention how much they love surf and turf? Now's the time to break out a classic surf and turf to impress your guest. Is a classic Italian meal a favorite go-to? Let's get that pasta cooking!
All that matters is that the menu appeals to you and feels doable! Regardless of what you serve, it'll be a memorable evening spent dining with someone special and that's a home run.
How to build the perfect Valentine's Day Menu
Building the perfect Valentine's Day Dinner menu may feel overwhelming, but I'm here to help! These Valentine's Day Dinner Ideas are here to help you find the best dishes, but you need to decide what you want your menu to look like first.
Are you doing a simple dinner with a main dish and a dessert? Are you going all out with appetizers, soup/salad, a main dish, dessert, and cocktails? Maybe you're more appetizer people that like to feast on a whole host of small plates? There are no wrong answers here!
Determine what course of action will be best for you you and your guest. Take into account prep times, and if you're going all-out, prioritize recipes that can be made ahead or prepped in stages to make your life that much easier.
Whichever route you go, these 30 Valentine's Day Dinner Ideas are here to help!
Best cooking tools for making Valentine's Day Dinner at Home
What are Valentine's Day Dinner Ideas without the right kitchen tools to prepare them? You don't have to be a Gordon Ramsey to make these recipes, but quality equipment helps. Here are the pieces in my kitchen that I can't cook without!
A sharp kitchen knife. Invest in a quality kitchen knife for all your cooking needs! If I had to recommend investing in one thing, it's always going to be a good knife. It's the backbone to cooking and will change the game for you in the kitchen.
Since we love a good steak at home, I'm never without a cast iron skillet. I use it for anything from cooking up a juicy burger, to searing a steak or scallops, or as a vessel for roasting a whole chicken. Charred vegetables in a cast iron? You haven't lived until you've had them. A cast iron skillet is durable, affordable, and can make a a whole host of things.
When I'm not using a skillet, I'm almost always using a braiser or a dutch oven. Braised meats are a big recipe in our household and a dutch oven or a braiser go a long way!
Valentine's Day Appetizers
Start your Valentine's Day Dinner off right with the perfect selection of appetizers. Everything from simple and classic to elegant and show-stopping, all our best appetizers for a perfect Valentine's Day Dinner at home are here!
Oysters with Mignonette. Want to look like a real Casanova? Shuck your own oysters at home and serve them up alongside the best ever cocktail sauce and mignonette. A classic seafood recipe that's at the top of our list for Valentine's Day Dinner Ideas.
Steak Tartare. If you're going for glam classic steakhouse vibes, no Valentine's Day menu is complete without this incredible steak tartare. Serve with some crusty bread or crostini for an elegant show-stopper of an appetizer.
Smoky Eggplant Dip. Maybe you're looking for a Mediterranean feel for dinner. If so, this smoky roasted eggplant dip is so good alongside warm pita. It's a vegetarian recipe, but perfect for that carnivore in your life too!
Pork dumplings. These delicious hand-folded dumplings are filled with pork and charred cabbage along with ginger, garlic, and green onion. You can prep these dumplings way in advance and freeze them. Then all you have to do is fry them up before serving!
Roasted shrimp cocktail. An elegant and impressive appetizer that takes literally 20 minutes to prep! Instead of laboriously poaching shrimp, they get tossed with olive oil and garlic and roasted until pink and tender.
Cheese and charcuterie board. There is nothing quite like a cheese and charcuterie board to snack on before dinner. It's easy to customize and prep ahead! Feeling overwhelming at choosing what to put on your board? No problem! I've got a whole guide to crafting the perfect cheese and meat board.
Best Salad & Soup Recipes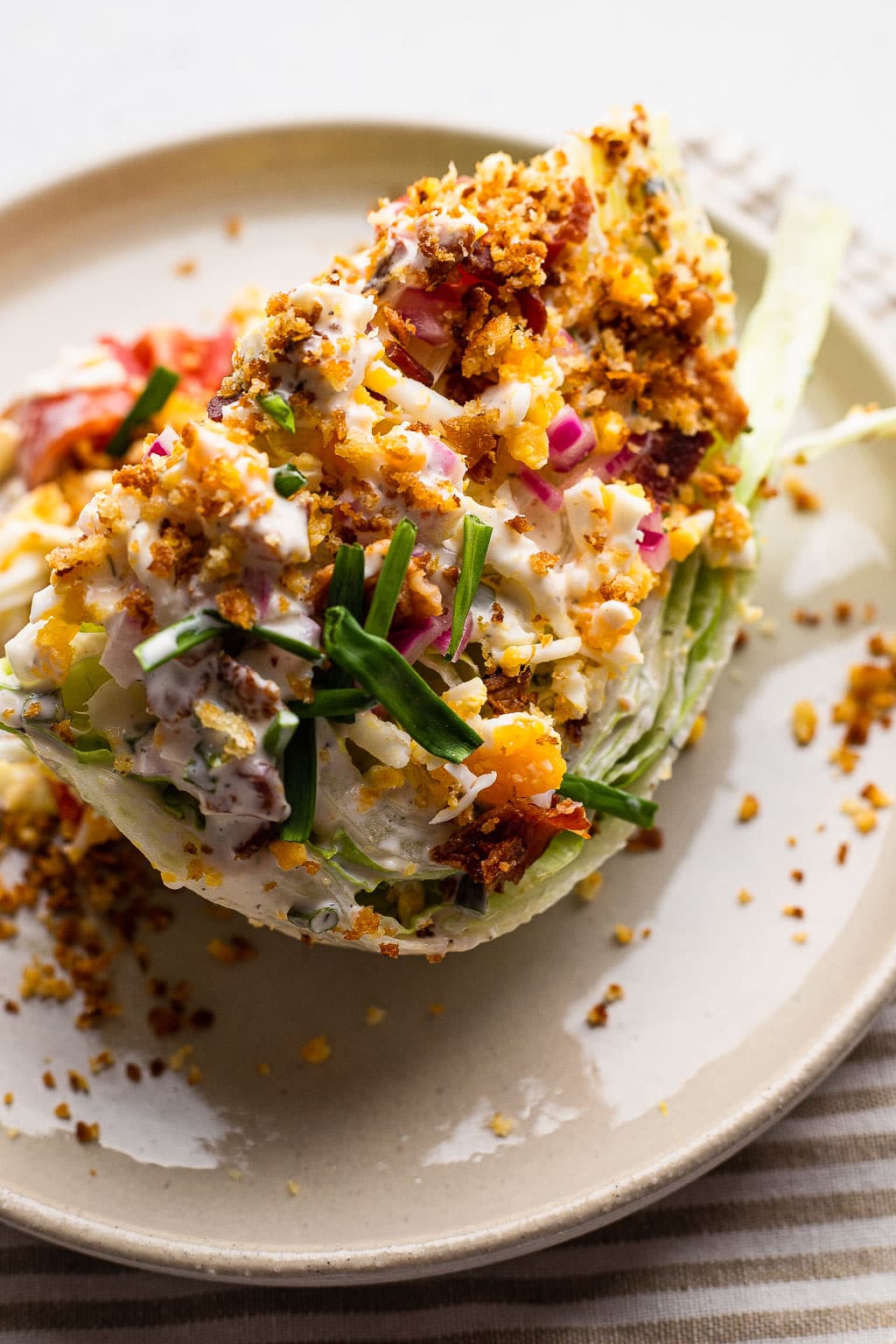 Loaded Wedge Salad. Is there anything swankier than a classic wedge salad? We've taken the classic and turned it up to 11 with all the toppings and a homemade buttermilk ranch.
Kale Caesar Salad. There's truly nothing more classic than a caesar salad! Elevate your salad game by adding Italian kale and making homemade croutons.
Italian Chopped Salad. If you love the CPK Italian Chopped Salad, you're going to love this version! It's fresh with tons of mix-ins and a homemade lemon-y herb vinaigrette.
Wonton Soup. Learn to fold your own wontons in this delicious and nourishing chicken wonton soup loaded with garlic, ginger, and Thai basil.
Tomato Bacon Bisque. Like your favorite tomato soup, only better because there's bacon!
Creamy Loaded Cauliflower Soup. If you love a loaded baked potato soup, you're going to love this lighter (but not lighter on flavor!) version. The soup is velvet smooth with tons of toppings.
Valentine's Day Dinner Ideas
The main event: Valentine's Day Dinner Ideas galore! There's something here for everyone, even cooking novices. You'll find a wide range of recipes perfect for all your Valentine's Day Dinner. Scroll further down for vegetarian entree ideas.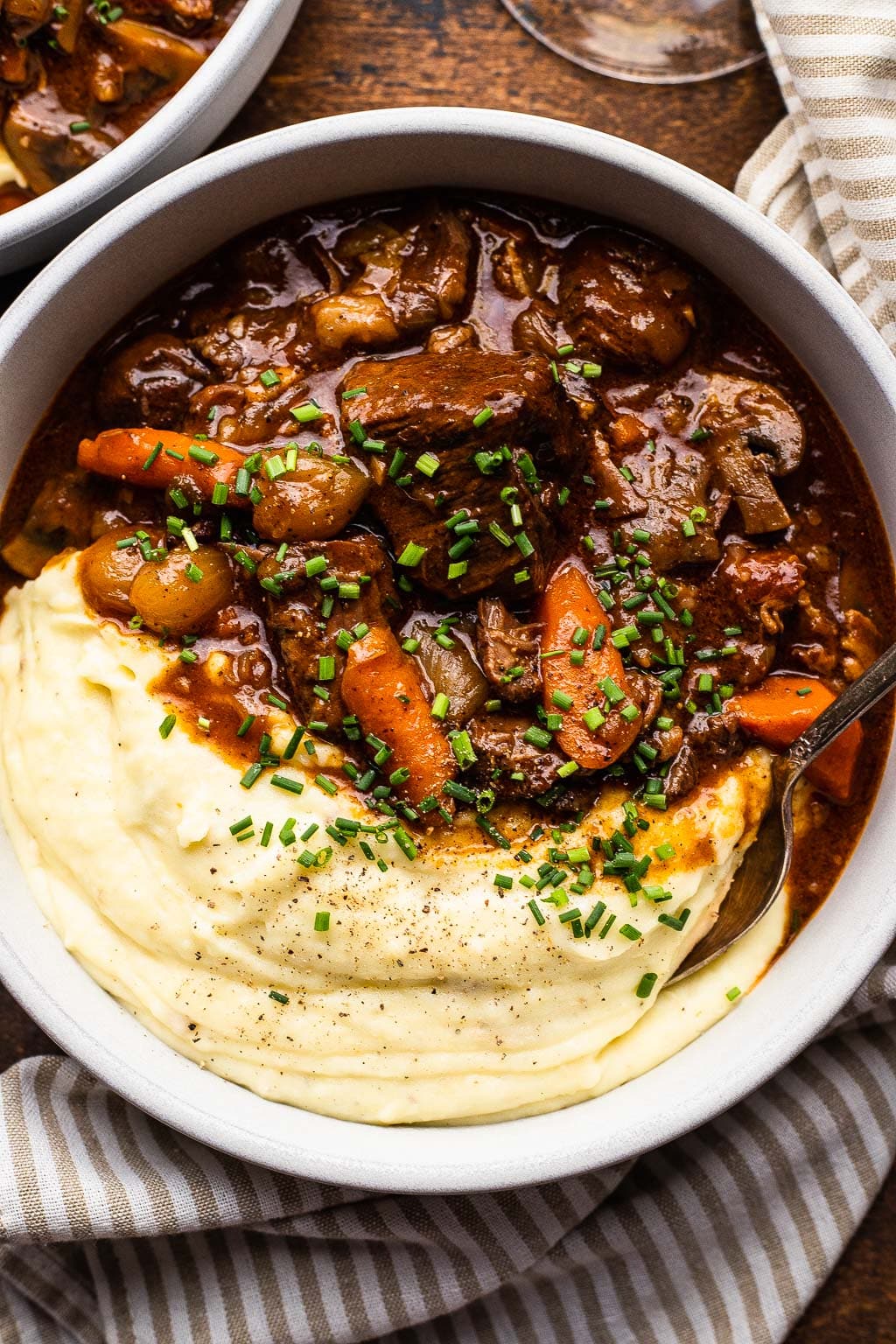 Beef Bourguignon. This classic French beef stew never fails to impress! Modeled after the famed Julia Child recipe, but modified for ease and simplicity.
Steak au Poivre. Is there anything better than a nice steak dinner? This French classic features seared beef tenderloin in a creamy peppercorn-cognac sauce.
Butter Poached Lobster Risotto. If you're going all out, lobster definitely needs to be on your menu! Tender lobster tails poached in garlic butter over an easy lemon-y risotto.
Pasta Bolognese. An Italian classic featuring my BEST EVER bolognese sauce. This is an impressive pasta dish to pull out on any occasion, but especially Valentine's Day.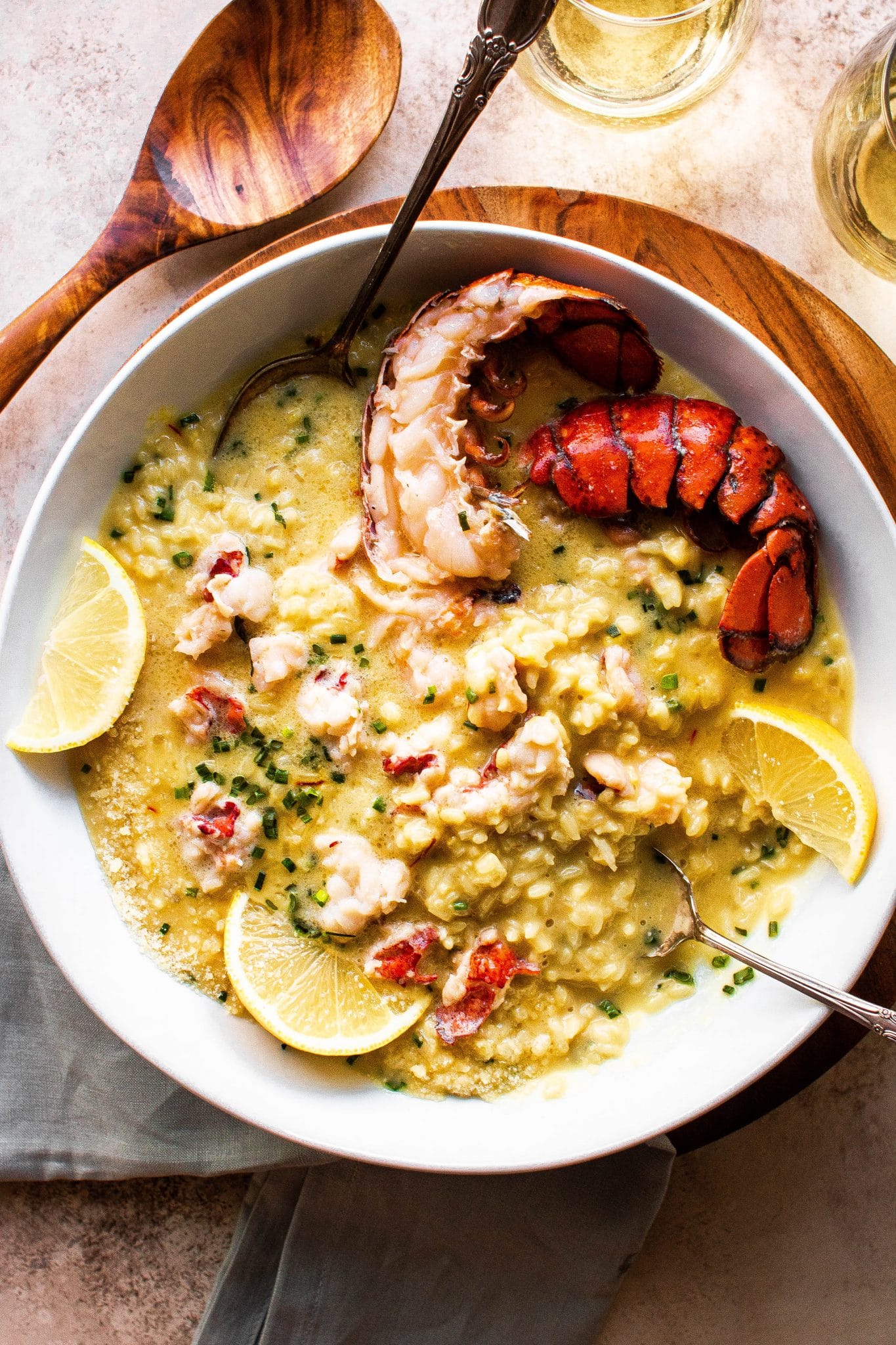 Roast Chicken Piccata. Instead of cooking up pieces of chicken breast, we're going for it with a whole roast chicken swimming in a lemon-caper pan sauce.
Pasta al Limone with Shrimp. Another classic pasta dish that is so good, and so easy. The whole recipe comes together in one pan in under 30 minutes.
Spanish Mussels with wine and chorizo. If you've never made mussels before, now is the time! They're steamed in a creamy broth brimming with spicy chorizo and shallots. Serve with fries or crusty bread!
Beef Wellington for two. A delicious and impressive dinner in a smaller package that's perfect for two dinners. Perfectly seared filet mignon wrapped in mushrooms and prosciutto before being wrapped in puff pastry, baked to crispy perfection.
Best Valentine's Day Desserts
Gooey Nutella Cakes. Imagine if a molten chocolate cake and a brownie had a baby, it would be this dessert! They're make ahead friendly and perfect for satisfying that chocolate craving.
Almond Ricotta Cake. A light and flavorful almond cake that's not to sweet and a great way to end a meal. Plus, the leftovers are great for enjoying with coffee in the morning.
Cherry Clafoutis. A classic French baked custard brimming with cherries. Another easy make-ahead dessert.
Strawberry Crisp for Two. If you're more into a fruit-based dessert, this ginger-tinted strawberry crisp for two is perfect! Topped with a delicious streusel for crunch–it's perfect for serving with a scoop of ice cream.
Chocolate Texas Sheet Cake. If you really want to go all out on chocolate, try this recipe for Texas sheet cake. Fudgy chocolate cake is glazed with chocolate while warm and topped with candied pecans.
Vegetarian Valentine's Day Dinner Ideas
Cacio e Pepe for two. If you love the classic Roman dish, you're going to love my version! It's silky smooth with tons of freshly cracked pepper and freshly shredded pecorino cheese.
Thai pumpkin red curry. Maybe not your first thought for a Valentine's Day Dinner Idea, but Thai food is packed with flavor and spice.
Tomato Risotto. This is one of my favorite risotto recipes ever. It's rich and flavorful and comes together in one pan in under 45 minutes.
Truffle Mushroom Risotto. Another classic risotto because nothing screams elegance like a bit of black truffle.
Caramelized Shallot Pasta. While this pasta may seem simple, it's anything but! The base of the sauce is loads of crispy caramelized shallots with olives, garlic, and the pasta is topped with crispy lemon breadcrumbs.
White Pizza (Pizza Bianca). A great pizza can so be a romantic meal! This white pizza is a vegetarian classic–all you need is a bottle of chianti!
I hope you found all these Valentine's Day Dinner Ideas helpful! Any one of these recipes would make a special evening to remember that any guest will love. If you do give a recipe a try, be sure to let me know! Leave a comment with a star rating on the recipe. Consider subscribing to my weekly newsletter and get all my newest recipes delivered to your inbox. You can also snap a photo & tag @JENNYGOYCOCHEA on Instagram. I LOVE hearing about & seeing your SMF creations!
---
This post for Valentine's Day Dinner Ideas contains affiliate links from which I receive a small commission at no additional cost to you. Affiliate links allow me to keep providing great recipes for free and I never recommend products that I don't love and personally own.
30+ Valentine's Day Dinner Ideas
This classic French Steak au Poivre features tender pepper-crusted filet mignon seared to perfection in a creamy cognac peppercorn sauce. If you're a steak lover, prepare to fall in love with this delicious rendition of steak!
Ingredients
1

lb

piece center-cut beef tenderloin (see notes)

3

tablespoons

coarsely crushed black peppercorns, divided

2

tablespoons

neutral high-temp oil, like canola

3

tablespoons

salted butter

2

garlic cloves, smashed

2

sprigs

fresh thyme

1

large shallot, finely minced

1/3

cup

cognac

1

cup

heavy cream

2-3

dashes

sherry vinegar, optional

flaky sea salt
Instructions
Season the steak. 30 minutes before you plan to cook, remove the tenderloin piece from the fridge. Pat really well all over with paper towels to remove excess moisture and season all over with salt and coarsely crushed peppercorns and leave about 2 teaspoons of peppercorns for the sauce. Let the steak sit uncovered for 30 minutes.

Preheat oven to 400 F.

Sear the steak. Heat 2 tablespoons of neutral high-temp oil in a stainless steel or cast iron skillet over medium-high heat. Once the oil is very hot and shimmering, carefully place the steak in the skillet. Sear all over, including the ends, until deeply golden brown.

Baste the steak. Add the butter, garlic, and thyme to the pan. Once the butter is melted, baste the steak with the melted butter for 2-3 minutes.

Transfer to the oven. Insert the probe of the meat thermometer into the thickest part of the steak and transfer the whole skillet to the oven. Cook until the temperature reaches 120-130 F (depending on preference) and remove from the oven. Transfer the steak to a cutting board and loosely tent with foil.

Make the sauce. Discard the garlic and thyme and return the skillet to medium heat on the stove. Add the minced shallot and cook until softened, using a silicone spoon to scrape up any browned bits from the skillet. Add the cognac and carefully tilt the pan until the cognac ignites. Let it burn, swirling the skillet occasionally, until the flame goes out. Add the remaining peppercorns and heavy cream and simmer for 1 minute. Add the bit of sherry vinegar, if using. Season to taste with salt.

Slice and serve. Slice the steak, sprinkle with flaky sea salt, and serve with the pan sauce immediately.
Notes
Keep in mind that the temperature of the meat will rise 5 degrees or so as it rests. For best results, pull at the temperatures listed below.
Medium-rare roast: 120°F.
The most important step to avoid overcooking Steak au Poivre is to use a meat thermometer! Insert the probe into the center before you put the steak in the oven and pull when it reaches your desired temperature. Let it rest under a loose covering of foil for 10 minutes before slicing.
For notes on selecting the right piece of beef tenderloin, see above blog post. 
You might also like...