taco shop style potato rolled tacos
taco shop style potato rolled tacos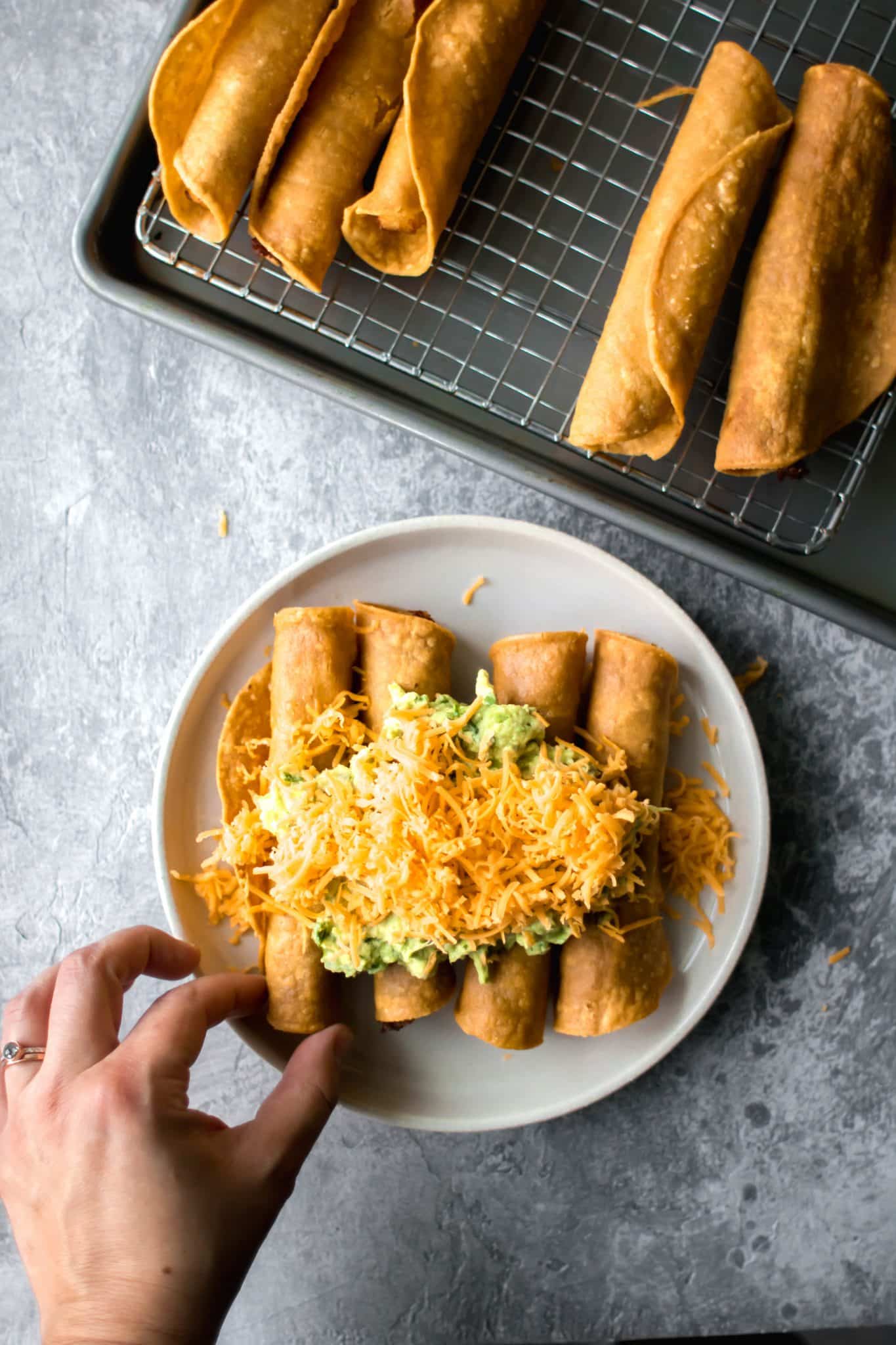 If you aren't from Southern California or if you haven't spent significant time there, you might not be familiar with the glory that is the taco shop style potato rolled taco. There's nothing quite like snacking on a plate full of the crunchy tacos topped with everything you can imagine when you're a little drunk and fiending for food. While this might seem like bastardized Mexican food, they have been served in Mexico and border towns like Tijuana since the 1920s, often called "taquitos" or "tacos dorados." There are a couple of restaurants in Los Angeles and San Diego claiming credit for bringing these delicious tacos to Southern California.
Regardless of who created the concept, you can find them in just about every taco shop in SoCal topped with guacamole, cheese, lettuce, sour cream and salsa. Commonly they're filled with beef or chicken, but I love them with potato. Some shops are doing it right where it almost seems like the tacos are filled with mashed potato. Some cut corners and just throw some french fries inside which aren't nearly as good. I know it sounds weird to fill a crunch rolled taco with potato but, trust me, once you've tried it you'll understand the majesty.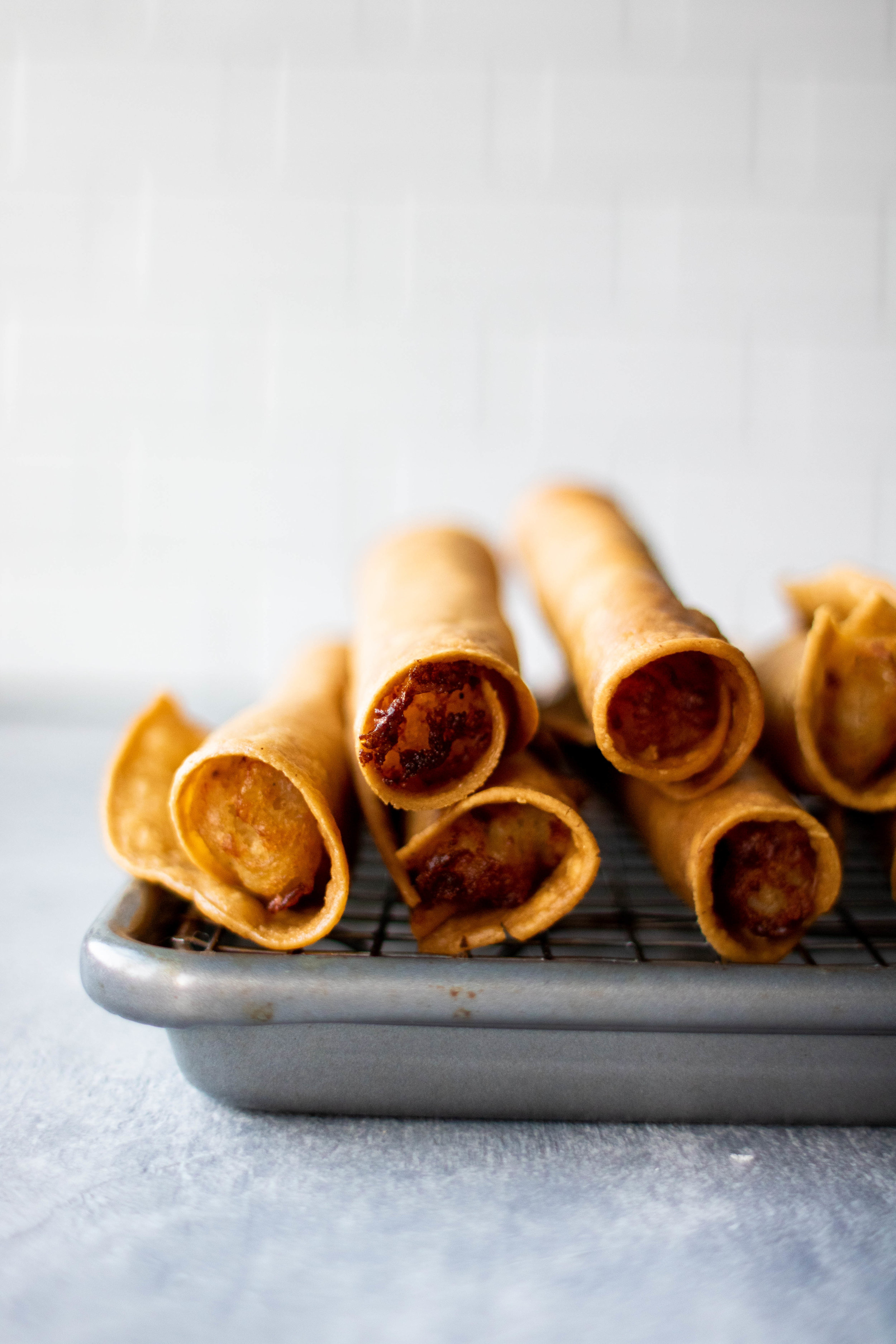 I was a little nervous to make these because I was worried that the tacos would unroll in the oil and make a mess. I had seen some recipes online that call for securing them with toothpicks, but I didn't think that would work so well with the potato filling. I figured I would try freezing them to hold their shape and hope for the best and it TOTALLY WORKED. It was like an awesome ah-ha! moment. I made the rolled tacos in the morning, went to the gym and grocery store and by the time I got back they were ready to go. They didn't unroll in the oil and they stayed crispy for hours, which is way more than I expected. This is why these are the perfect snack for game day! You can make them in the morning, freeze them, fry them and then relax for the rest of the day! You can fill these with your favorite meat if the potato isn't enough for you. I haven't tried oven baking them, but I believe that would work also. I would just make sure they are really frozen, throw them on a baking sheet, brush them with canola oil, and bake them at 425 F until golden and crispy. I seriously can't get over how well these turned out!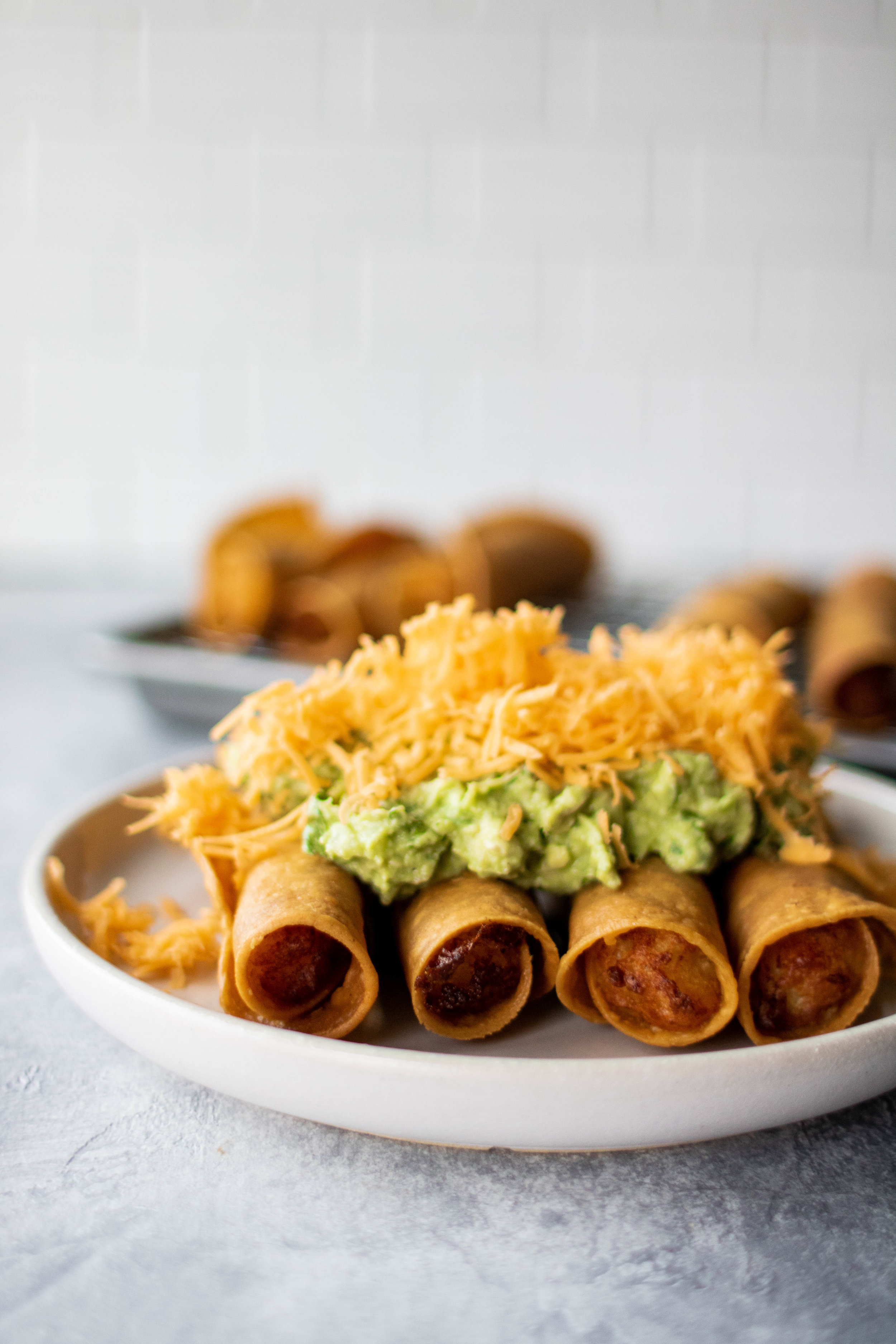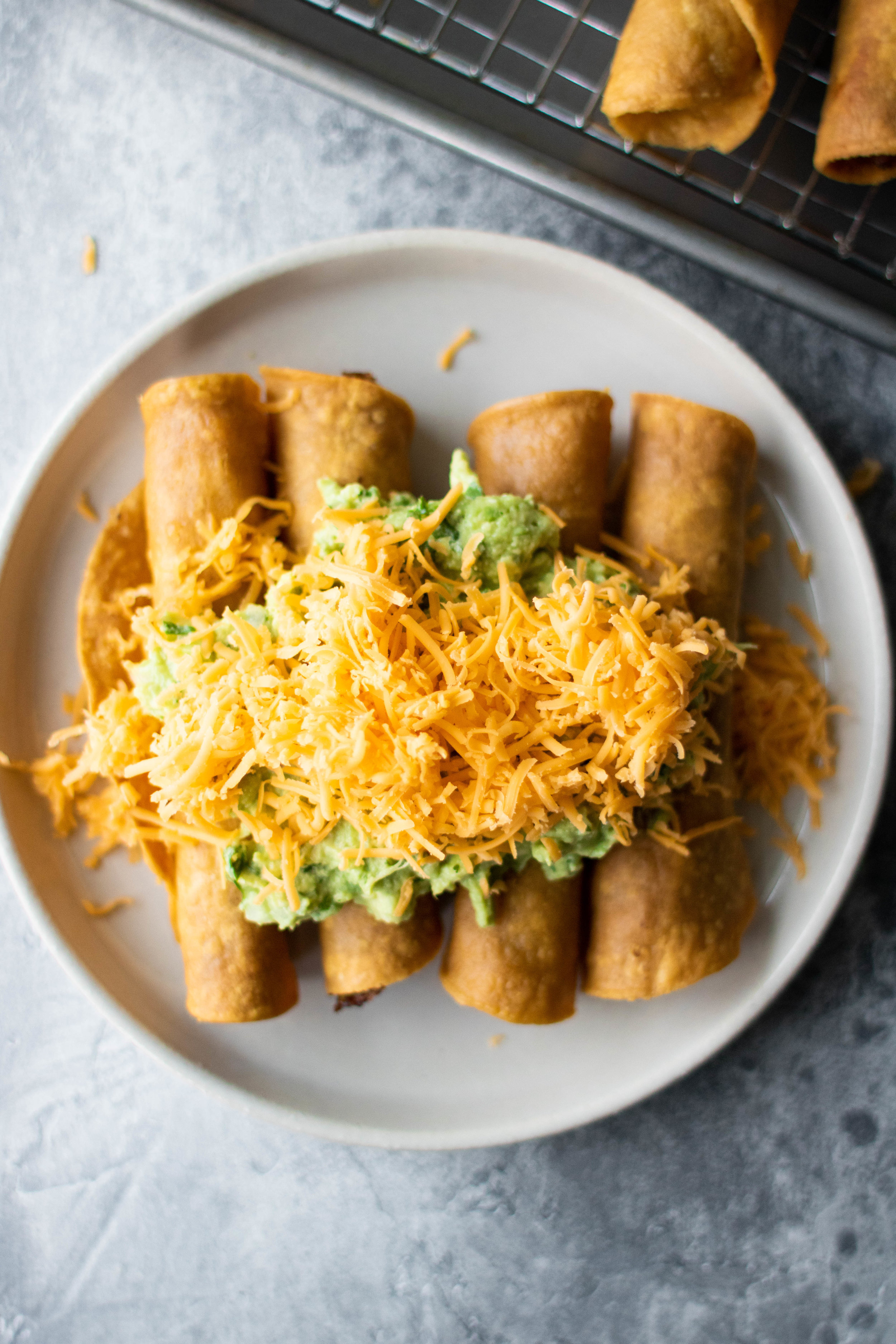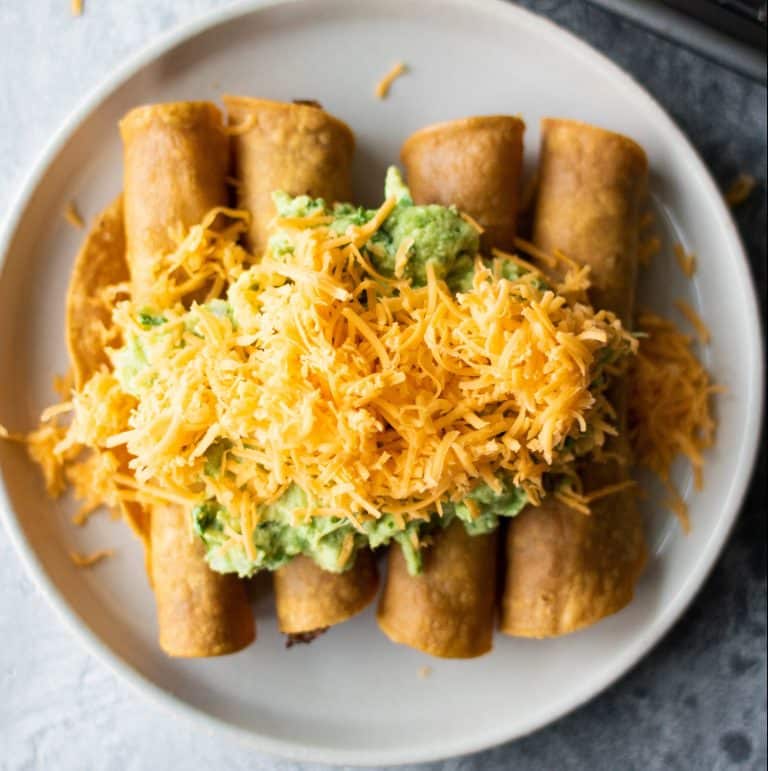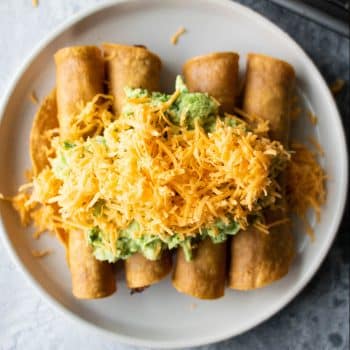 taco shop style potato rolled tacos
If you are looking for a game day appetizer or the perfect party food, potato rolled tacos are the best!
Makes:
12
-14 rolled tacos
Ingredients
Rolled Tacos

3

large yukon gold potatoes

chopped

1

tablespoon

neutral oil

1/2

white onion

diced

1/4

teaspoon

garlic powder

1/4

teaspoon

ancho chile powder

salt and pepper

corn tortillas

canola oil

for frying

guacamole

see below, for topping

shredded cheddar

for topping

4

large avocados

ripe

1

tablespoon

minced jalapeño

1/2

white onion

finely diced

2

limes

juiced

1/3

cup

minced cilantro

salt and pepper
Instructions
To make the rolled tacos: Place the chopped potatoes in a slightly salted pot of water and boil until very tender. Drain and wipe out the pot. Heat the oil in the pan, add the onion and cook until softened. Add the potatoes back to the pot with the ancho chile powder, garlic powder and some salt and pepper to taste. Add 1/4 cup of water or broth and cool until the potatoes are almost mashed potato texture. Transfer filling to a bowl and allow to cool slightly. Arrange 5 tortillas on a plate and cover with a slightly damp paper towel. Microwave for 45 seconds. The tortillas should be very flexible. If they crack at all when you bend them, microwave a little longer. Take 2-3 tablespoons of potato filling and distribute it on one side of the tortilla. Tightly roll the tortilla up and place on a baking sheet seam side down. Repeat until the filling is gone. Freeze for 2-3 hours, until firm, or overnight.

To make the guacamole: remove the seeds from the avocados and mash the flesh in a bowl. Add the remaining ingredients and stir until mostly smooth. Season to taste with salt and pepper.

Heat 1 1/2 inches of canola oil in a pot or dutch oven. Bring the oil to 360 degrees F. Gently lower 3-4 frozen rolled tacos into the oil and fry for 3-4 minutes, until golden brown and crunch. Transfer to a wire rack set over a baking sheet to drain any excess oil. Repeat until all the tacos are fried. Top with shredded cheddar and guacamole.
Notes
You could also fill these rolled tacos with your favorite meat! I just really love the potato in these.
I haven't done these in the oven, but if you really don't want to fry them I would brush the frozen rolled tacos with canola oil on a baking sheet and bake at 425, seam side down, until they're golden brown.
You might also like...