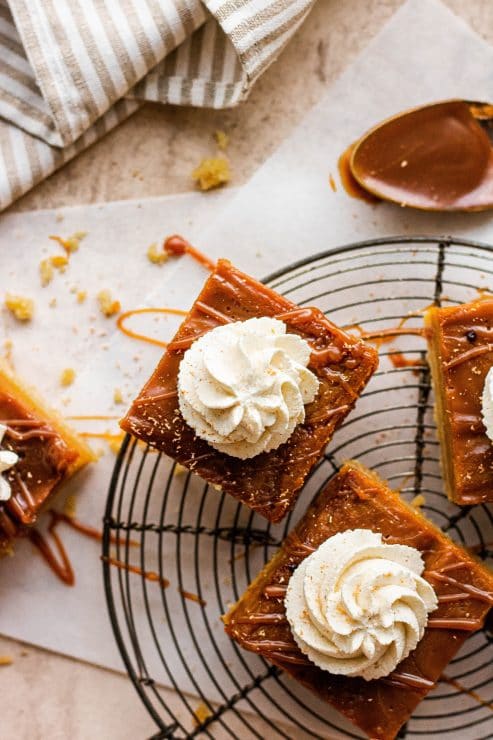 Salted Caramel Pumpkin Pie Bars
Salted Caramel Pumpkin Pie Bars
I've said this before and I'll say it again: I have never been team pumpkin pie. Until these salted caramel pumpkin pie bars! I honestly made this recipe on a lark; I had a can of pumpkin puree that I wanted to use up and a jar of Trader Joe's salted caramel.
Somehow the idea popped into my head to swirl the caramel on top before baking and thus this recipe was born.
I didn't have high hopes for it; in fact, I really expected it to be average. But, when I tried them I was blown away and I had to actively stop myself from eating them. The pumpkin has such a silky texture topped with whipped cream that is just barely sweet and the crust in itself is worth snacking on!
I love this recipe for thanksgiving because it's so much easier than making a pie and it's a fresh and sophisticated take. Happy baking!
What are Salted Caramel Pumpkin Pie Bars?
Salted caramel pumpkin pie bars have an almost shortbread-like base for the crust, topped with a rich and subtly spiced pumpkin pie filling, and then there's salted caramel swirled on top before baking. They're then topped with the most luscious and delicious whipped cream EVER. Pumpkin pie bars are like if shortbread cookies and pumpkin pie had a baby.
What Ingredients make up the Crust?
The crust for these pumpkin pie bars is made from all-purpose flour, granulated white sugar, brown butter, vanilla, and salt. It's similar in texture to cookie dough, just a little bit sandier.
It's then pressed into an 8×8 baking pan and topped with the filling before being baked. This recipe does not require that the crust be baked before adding the filling.
what is brown butter?
Great question! Brown butter is butter that has been cooked over low heat until the milk solids in the butter have caramelized. It has the most deliciously nutty and rich flavor and adds so much to baked goods!
It's very easy to make! Just keep an eye on it as it tends to burn quickly. For more info on browned butter, check out this article by The Kitchn! If you're looking for more recipes that have browned butter in them, check these out: salted chocolate pecan pie, gingerbread cookie sandwiches, old fashioned sour cream donuts, and Nutella Linzer cookies.
Do I need a stand mixer to make pumpkin pie bars?
No! You can actually make the crust in the food processor by pulsing until the ingredients come together and then pressing into the baking pan. Alternately, you can mix everything in a large mixing bowl with a rubber spatula and then use your hands to finish mixing so that everything has a homogenous texture. The filling is whisked by hand and I always whisk my whipped cream by hand. No stand mixer is required for this recipe!
what ingredients go into the filling for pumpkin pie bars?
The ingredients for pumpkin pie filling are pumpkin puree (not pumpkin pie filling!), brown sugar, eggs, cinnamon, pumpkin pie spice, eggs, vanilla bean paste, dry milk powder, heavy cream, and a pinch of salt. All these ingredients are whisked together until smooth and then poured over the prepared crust before baking.
which pumpkin puree is best?
I am personally partial to Libby's canned pumpkin puree and Trader Joe's canned pumpkin puree. Make sure you are buying pumpkin puree and not pumpkin pie filling, which has all of the sugar and spices already included. I am also a fan of homemade pumpkin puree and if you'd like to make your own, you can find my recipe here.
Why use dry milk powder?
I know this seems like a weird ingredient, but I actually add it to lots of baked goods! Not only does it add a rich and creamy flavor, but it actually helps emulsify fillings and absorbs some of the liquid from the pumpkin puree so that you don't end up with a soupy mess. It's a staple in my kitchen and I highly recommend it! If you don't have it, you can omit it but it's inexpensive to buy and lasts forever so I highly recommend adding it to your baking stock.
Where can I find salted caramel sauce?
Just about every grocery store carries some version of it! I'm extremely partial to the Trader Joe's salted caramel sauce but other great brands are Stonewall kitchen, Williams Sonoma, and even Smucker's makes a salted caramel sauce now! I like making my own when I have the time, but storebought works just fine here.
Do I have to use salted caramel?
No, but it adds a lot to the recipe. If you don't like caramel, you can omit it. You can use regular caramel if you don't like salt, or just omit it completely.
Can this recipe be doubled?
Absolutely! If you double the recipe, bake in a 9×13 baking dish. You may need to adjust the time slightly, but it will work!
How do I know when the pumpkin pie bars are done baking?
Great question! The center should jiggle slightly when you jostle the pan. The edges will be mostly set but the center will jiggle just a tiny bit. That's when you should remove the pan from the oven and it'll set nice and firm as it cools to room temperature.
Can I make the pumpkin pie bars ahead of time?
Absolutely! They can be made up to 3 days in advance. Bake them off as normal, allow them to cool completely to room temperature, and then wrap them tightly with plastic wrap before transferring them to the fridge. I would wait to cut them until you're ready to serve.
Can pumpkin pie bars be frozen?
Yes! They can be frozen for up to 1 month. Just make sure to wrap them tightly in plastic wrap so that they don't get icy. Allow them to defrost overnight in the fridge.
Other recipes you may like:
This post may contain affiliate links from which I receive a small commission at no additional cost to you. Affiliate links allow me to keep providing great recipes for free and I never recommend products that I don't love and personally own.
Salted Caramel Pumpkin Pie Bars
Salted caramel pumpkin pie bars are the perfect alternative to pumpkin pie for Thanksgiving!
Ingredients
Crust:
8

tablespoons

(1 stick) unsalted butter

1/2

cup

granulated sugar

1/2

teaspoon

kosher salt

2

teaspoons

vanilla extract

1 1/3

cups

all-purpose flour
Filling:
15

oz

can pumpkin puree

(not pumpkin pie filling!)

1

teaspoon

vanilla bean paste

2

eggs,

at room temperature

2

tablespoons

dry milk powder

1

teaspoon

ground cinnamon

3/4

teaspoon

pumpkin pie spice

2/3

cups

brown sugar,

packed

1/2

cup

heavy cream,

at room temperature

Pinch

of kosher salt

2/3

cup

salted caramel sauce,

plus more for drizzling before serving
Maple Whipped Cream:
1 1/4

cups

heavy cream,

cold

2

tablespoons

pure maple syrup

1

teaspoon

vanilla bean paste

1/8

teaspoon

freshly grated nutmeg,

optional
Instructions
To make the crust: Preheat an oven to 350 degrees F. Lightly grease and line an 8x8 baking pan with parchment paper.

In a small skillet or saucepan, melt the butter over medium-low heat. Continue to cook the butter, swirling the pan every 30 seconds, until golden brown and fragrant, about 5 minutes or so. Pay attention as it can burn very easily! Transfer to a heat-proof container (like a metal mixing bowl) to cool for 10 minutes.

In the bowl of a stand mixer fitted with the paddle attachment, add the cooled brown butter, sugar, and vanilla extract. Mix on low until well combined. Add the flour and salt and mix until combined and the dough starts to come together, about 2 minutes. Transfer to the prepared baking dish and press into an even layer, getting into all the corners. Use a measuring cup, or something with a flat bottom, to smooth the top as you press the crust into the pan. Set aside.

To make the filling: Combine all the ingredients except the caramel sauce in a medium mixing bowl and whisk until the filling is very smooth and all the ingredients are combined. Pour the filling into the baking dish over the prepared crust. Drizzle the caramel sauce on top, and using a knife or toothpick, swirl the sauce into a pretty design over the top. Bake for 40-45 minutes, until the center just barely jiggles. Allow the bars to cool to room temperature. Refrigerate at least 4 hours, overnight if desired. Slice before serving.

To make the whipped cream: Combine all whipped cream ingredients in a mixing bowl and whisk until medium-stiff peaks form. Top bars with whipped cream, extra caramel sauce, and freshly grated nutmeg (if desired).
Notes
These bars were baked in an 8x8 metal baking pan. If you're using glass, you may need to increase the bake time. Bake until set and the center just BARELY jiggles. 
You might also like...