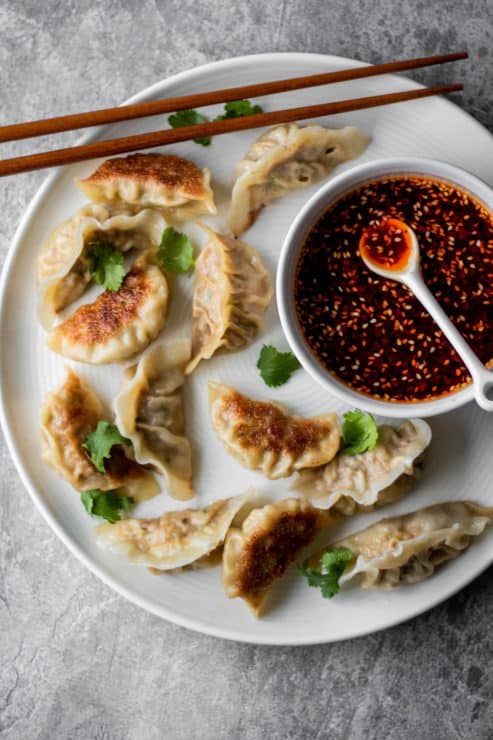 pork + charred cabbage dumplings
pork + charred cabbage dumplings
I want 2019 to be the year that I continue to challenge myself with food and continually get out of my comfort zone. And so I knew I really wanted to make these pork and charred cabbage dumplings. I had never folded a dumpling before making these! I've always loved the pretty little pleats and the nimble way their makers work with their hands but I've been too intimidated to try them until now.
I like everything to be perfect and when I'm not great at something, or it doesn't turn out exactly the way I've envisioned it, I get discouraged. But there is so much beauty in imperfection. All it means is that you are trying and that in itself is special and worthwhile.
Anyway, back to the dumplings at hand. These were surprisingly easy and relaxing to fold. It took me about an hour to do 40, I cooked off about 20 and froze the rest for a later day. There's something really nice about being able to pull dinner out of the freezer on a night when you're not feeling the whole cooking thing and still have a great meal. These dumplings cook up great from frozen in just about the same time as they do from fresh. This is a really great video resource for learning to fold the pleated dumplings. But, there are plenty of simpler versions here. However you choose to fold them, they're going to be delicious regardless so don't sweat it! You can even just fold them into a half moon and say fuck the pleats, no one is judging you! Have fun with it and challenge yourself with something new. Also, you can get the recipe for my homemade chili oil here! Happy cooking!
pork + charred cabbage dumplings
If you love dumplings, you are going to love these pork and cabbage dumplings! Make sure to store some in the freezer for the future!
Ingredients
Dumplings

40

round dumpling wrappers

1

lb.

ground pork

1

egg

5

stalks green onion

sliced

1

tablespoon

freshly grated ginger

4

garlic cloves

minced

1

cup

chopped cabbage

2

tablespoons

soy sauce

1

teaspoon

sesame oil

1

teaspoon

salt

1

tablespoon

sriracha

Dipping Sauce

1/4

cup

soy sauce

1

tablespoon

rice wine vinegar

1/2

teaspoon

sesame oil

1

teaspoon

chili oil and flake

1/2

teaspoon

sesame seeds
Instructions
Mix all the sauce ingredients together and set aside.

In a medium cast iron, heat 1 tablespoon of neutral oil over medium heat. Add the chopped cabbage and let it sit in the pan without stirring for a couple of minutes until dark spots appear. Stir and repeat until the cabbage has charred spots all over. Transfer cabbage to a cutting board, cool slightly and finely chop. Mix with the filling ingredients (minus the wrappers) until everything is well mixed.

Take a round wrapper and brush the edge with water. Place about 1 teaspoon of filling in the center and fold with pleats (see above for video references!). Dust the bottom with a little flour and place on a tray. Repeat until all the filling is done.

Heat a large nonstick skillet over medium heat. Add 1 tablespoon of oil. Place the dumplings in the pan, flat bottom side down, and cook for 2-3 minutes until the bottoms are golden brown. Add 1/2 cup of water to the pan, cover and cook for another 5-7 minutes until the water has evaporated. Serve hot with dipping sauce. Any extra dumplings can be frozen and cooked from frozen in the same method.
Notes
I love making a large batch of dumplings and freezing what I don't it. It makes a great, easy meal for later.
Folding the dumplings takes time and practice, don't get discouraged if they aren't perfect!
You might also like...