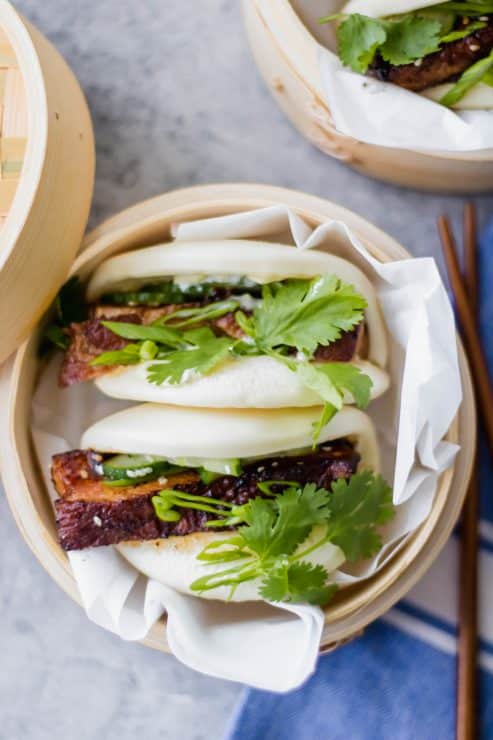 pork belly bao (gua bao)
pork belly bao (gua bao)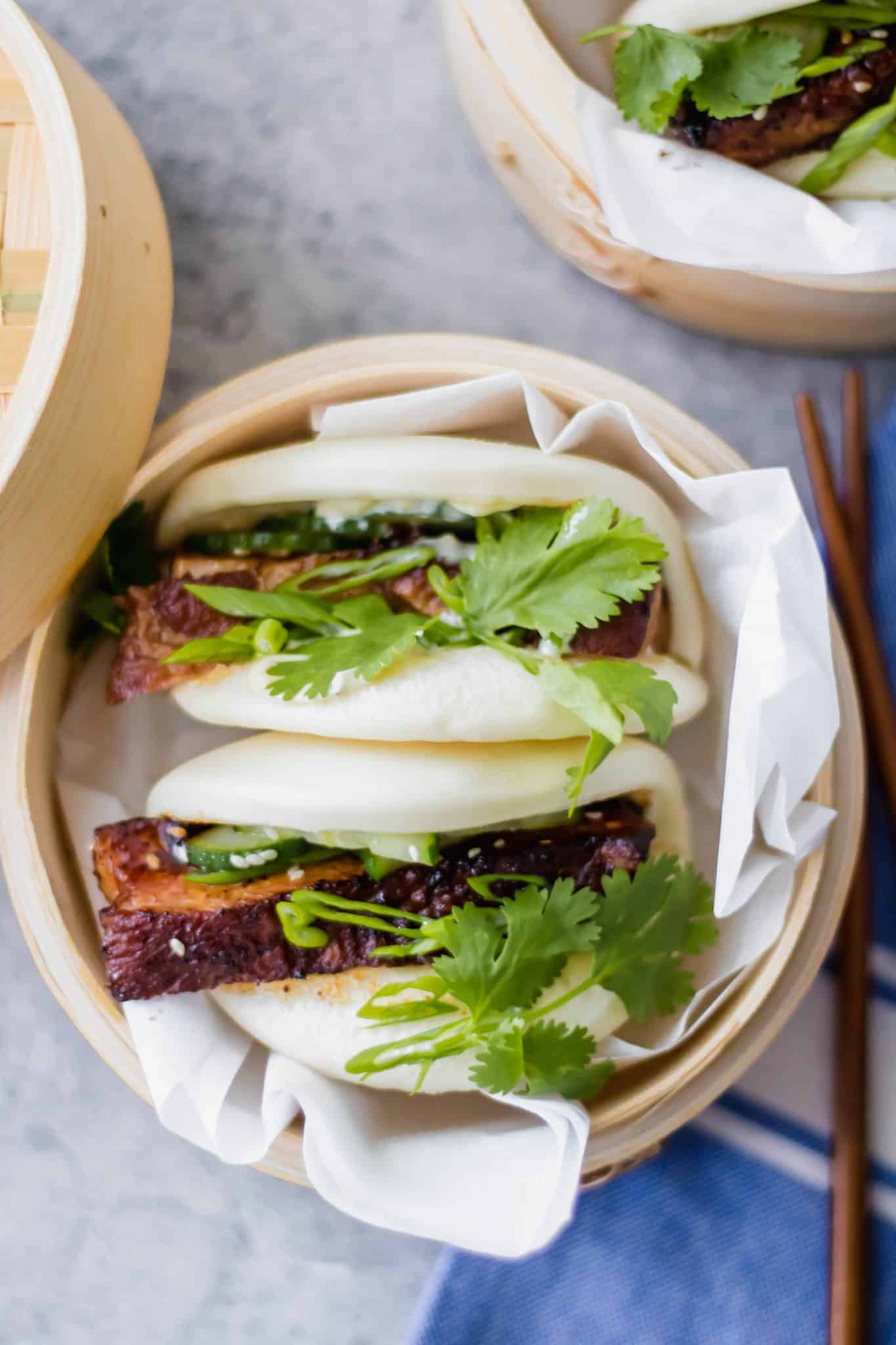 I am so excited about these little pork belly bao buns! I've wanted to post the recipe for a bit, but I was waiting for the right moment. And the impending NYE festivities seem like as good a time as any. I have always felt that NYE parties are really about little bites and cute appetizers and these FIT THE BILL. Pork belly bao are taiwanese street food that we've seen a large influx of in the US over the last couple of years. I love them because they are so fun and customizable! You can really play around with different filling ingredients based on whatever suits your tastes. I kept these real simple so that you can spend more time mingling on NYE than slaving in the kitchen. And let me tell you, your guests will be IMPRESSED.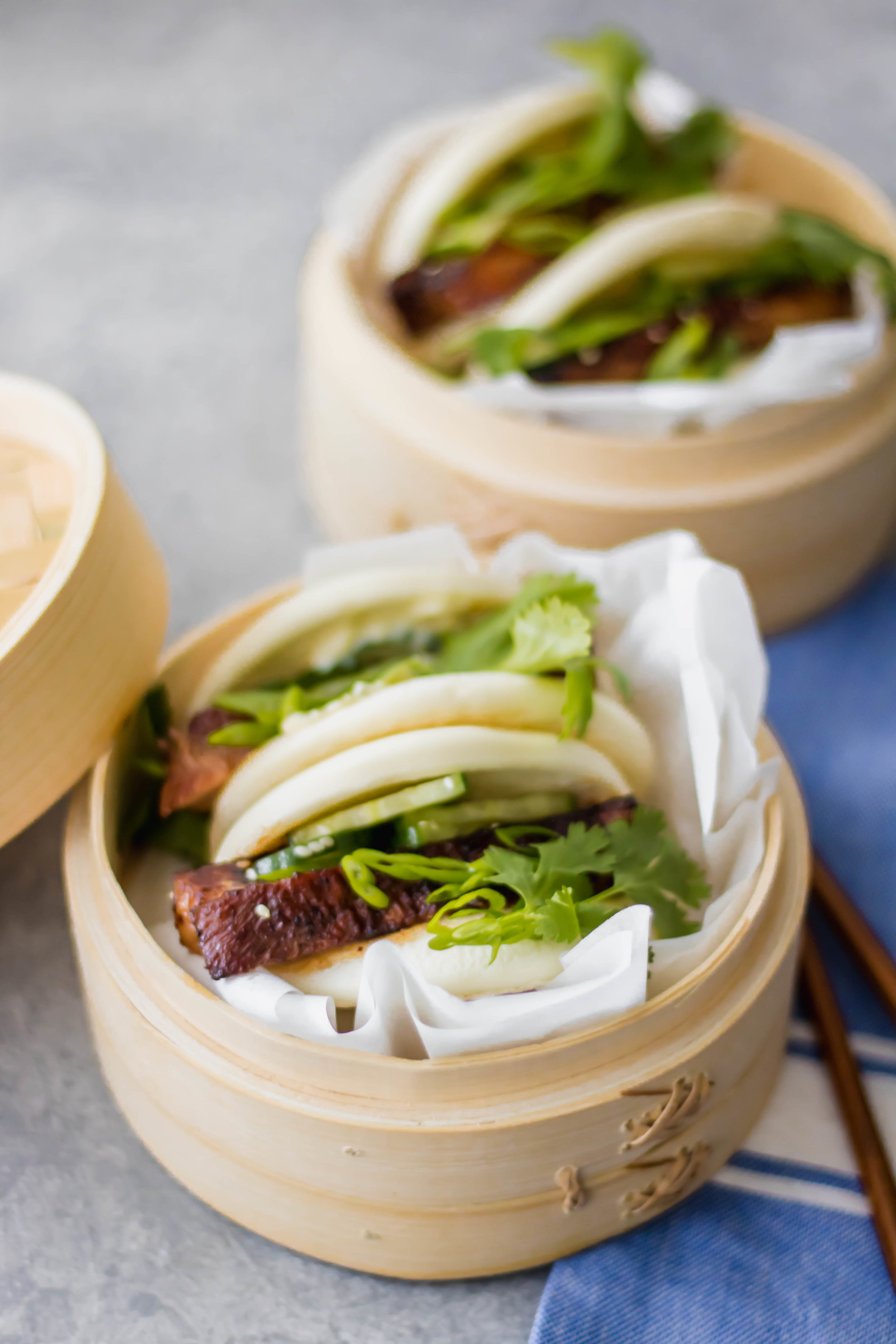 Some of these ingredients may be difficult to find, but a trip to your local asian market or grocery store will usually yield great results. If you want to make your own buns, I've got a recipe here. I opted for store bought, because it just made my life easier. You can usually find the buns in the freezer section of most asian grocery stores and I just steamed them for about 10 minutes from frozen before using. Happy almost New Year!
pork belly bao (gua bao)
These are the perfect party appetizer and they are so flavorful and fun to make!
Ingredients
Pork Belly

2

lb.

pork belly slab

skinless

1/2

cup

soy sauce

3

tablespoons

hoisin

1/3

cup

mirin

12

oz.

lager style beer

such as kirin or sapporo

2

tablespoons

grated ginger

Marinated Cucumbers

3

persian cucumbers

sliced thin

1/3

cup

rice wine vinegar

2

teaspoons

sugar

1

teaspoon

salt

1

teaspoon

toasted sesame oil

1

teaspoon

sesame seeds

Pork Belly Bao

12

slices

cooked pork belly

see above

2

tablespoons

soy sauce

1

teaspoon

sriracha

2

teaspoons

hoisin

sesame seeds

for sprinkling

12

bao buns

steamed according to package instructions

3

stalks green onion

sliced

kewpie

or other mayonnaise

cilantro leaves

for garnish
Instructions
To make the pork belly: Preheat an oven to 350 degrees F. Heat a smaller (just large enough for the pork belly to sit in) dutch oven over medium heat. Add pork belly fat side down and sear for 5 minutes or so, until browned. Flip the pork belly and add the beer, soy sauce, mirin, hoisin and ginger and bring to a simmer. Turn off the heat, cover and place in the oven. Braise for 2 hours, or until tender. Remove from the oven, cool to room temperature. Transfer to the pork belly to a plate, cover and refrigerate until firm.

To make the cucumbers: mix rice wine vinegar with sugar, salt, sesame oil and seeds until the sugar and salt have dissolved. Add cucumbers and let marinate for 30 minutes to 1 hour.

Preheat an oven to 450. Once the pork belly is firm, cut into 1/4" slices and place on a silpat or foil lined baking sheet. Mix together soy sauce, hoisin, and sriracha and brush over the pork belly slices. Sprinkle with sesame seeds. Place in the oven for 10-12 minutes, until pork belly is golden brown. Spread a little kewpie into each steamed bun, add a slice of pork belly and top with marinated cucumbers, greens onions and cilantro.
You might also like...