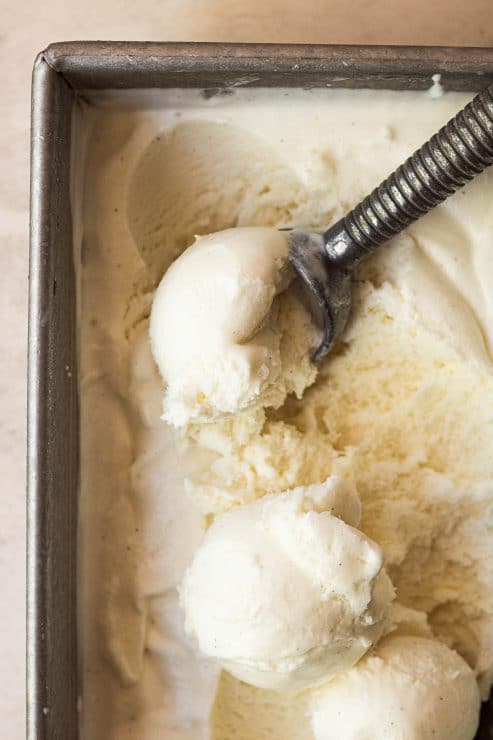 Philadelphia-Style Ice Cream
Philadelphia-Style Ice Cream
If you haven't ever had Philadelphia-style ice cream, it is truly TO DIE FOR. It's light and airy and without the eggs, the vanilla really shines through. The best part? You make it in the blender and it takes 5 MINUTES.
That is not a time exaggeration, either. You can easily customize the flavors and add any mix-ins that you like! I promise that this will be your go-to ice cream recipe going forward!
What is Philadelphia-style ice cream?
Philadelphia-style ice cream is an eggless ice cream consisting mainly of cream, milk, and sugar. There are no eggs in Philadelphia-style ice cream and so you don't have to cook the base at all. No more tempering egg yolks and cooking the custard, woo! The name comes from the robust community of dairy farms that once inhabited Philadelphia. Philadelphia-style ice cream tends to be lighter than ice cream with eggs.
Why add Cream Cheese?
I find that this style of ice cream can freeze a little hard. Adding cream cheese keeps it soft in the freezer and adds a fantastic tang! Because cream cheese has stabilizers in it, your ice cream won't end up icy in the freezer (yay!). I don't recommend skipping this step, it really makes a huge difference.
What tools do I need for making ice cream?
I love this recipe because it requires very little!
A blender. You don't need a fancy blender, just one that has good power. I personally have a Vitamix and love it. You can find mine here.
An ice cream machine. Again, you don't need anything fancy. I picked up this inexpensive ice cream maker on Amazon and it does the trick! You can find it here.
What flavors can I make Philadelphia-style ice cream?
The possibilities are endless! Here are a couple of options.
Salted Caramel. Add 1/3 cup of your favorite salted caramel sauce while blending.
Chocolate. Add 2 tablespoons of dutch-processed cocoa to the blender with the milk.
Coffee. Add 1 tablespoon of your favorite instant coffee to the blender. Don't skip the vanilla!
Mint Chip. Add 2 teaspoons of mint extract to the base and fold in 1 cup chocolate chunks after churning. You can also blend 1/3 cup of fresh, dry mint leaves with the sugar prior to adding the other ingredients.
Matcha. Add 2 tablespoons of matcha powder to the milk before blending.
Peanut Butter. Blend in 1/4 cup smooth peanut butter.
The mix-in possibilities are endless too! You can fold in caramel swirls, cookie bits (um, hello OREO ICE CREAM), fruit, toasted nuts, chocolate chunks, marshmallows, etc.
Is this ice cream gluten-free?
Philadelphia-style ice cream is naturally gluten-free! Just double-check the ingredients list on the brand of cream cheese that you're using to make sure.
More Recipes to Try
This post contains affiliate links from which I receive a small commission at no additional cost to you. Affiliate links allow me to keep providing great recipes for free and I never recommend products that I don't love and personally own.
Philadelphia-Style Ice Cream
Philadelphia-style ice cream is a quick and easy recipe to make homemade ice cream. All the ingredients go into a blender until smooth and then you churn it with any mix-ins!
Ingredients
1 1/2

cups

whole milk

1 1/4

cups

granulated sugar

4

oz

full-fat cream cheese

at room temperature

1/2

teaspoon

fine sea salt

1

teaspoon

vanilla bean paste

or the seeds from 1 vanilla bean pod

2

cups

heavy cream
Instructions
Combine the milk, sugar, cream cheese, salt, and vanilla bean in the carafe of a blender. Blend on high for 2 minutes until completely smooth and the sugar has dissolved.

Add the heavy cream and blend for 1 more minute.

Churn in an ice cream maker according to the manufacturer's instructions. Once the ice cream looks like soft serve, transfer to an airtight container and freeze for 4 hours, or overnight. Before transferring to an airtight container, you can fold in any desired mix-ins.
You might also like...