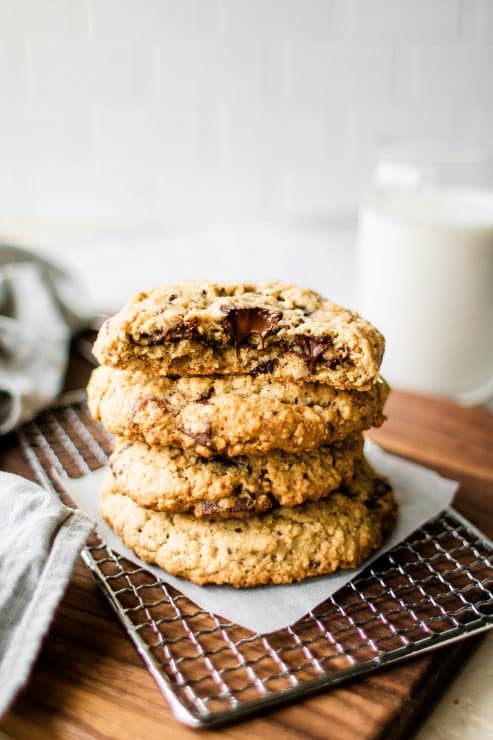 nutella stuffed oatmeal chocolate cookies
nutella stuffed oatmeal chocolate cookies
Okay, I really have done it this time. I made the wildest and most delicious cookie. Nutella stuffed oatmeal + coconut chocolate chunk cookies! And it was completely on a whim as I tried to just use up a bunch of stuff I had in my pantry (instant oats, coconut, nutella, chocolate bars). But holy shit, these are incredible. I don't consider my baking strength to be in cookies (except macarons, I can crush those) because for some reason my cookies are never completely satisfactory. I have posted a few on my site that I've been happy with, but it doesn't happen all that often. I always pick them apart and they never give me that 'ah-ha' moment. Until these. And I don't even really care for oatmeal cookies (especially oatmeal raisin, the most boring, prudish cookie ever made) but these are not your grandma's oatmeal cookies.
They are just flat out sexy. They of course have the delicious toasted oat flavor, but it's enhanced with just a bit of toasted coconut. Not enough to feel like these are coconut cookies, but just enough flavor to give you pause, wondering "what's that little something?" They are also HEAVILY loaded with huge pieces of chocolate chunks. Please, for the love of all things baking, can we just let chocolate chips fall by the wayside? They are loaded with stabilizers and because of this they will never truly melt into pools of melted chocolate happiness. Just buy a chocolate bar (or get the giant pound plus bar from trader joe's) and roughly chop it up.
I leave really large chunks in which make all the difference once baked. But the real coup de grâce is the fact that these cookies are stuffed with NUTELLA. I honestly can't get enough nutella and it doesn't help that I'm trying to work through a giant jar in my pantry. It feels like every baked good is improved with nutella, so why not? The nutella is chilled for a bit in the fridge to make it a little firmer and the cookie dough is wrapped around it and when it bakes, it's got a molten nutella center. It's simply magical. You're just going to have to bake these and find out for yourself. The best part? The dough can be frozen and kept in a bag in the freezer so you can enjoy nutella stuffed oatmeal chocolate cookies whenever the craving hits. You're welcome.
nutella stuffed oatmeal chocolate cookies
If you love chocolate and Nutella, these cookies are for you! They are definitely not your grandma's oatmeal cookies!
Ingredients
2

sticks unsalted butter

at room temperature

1

cup

brown sugar

tightly packed

2/3

cup

granulated sugar

2

eggs

2

teaspoons

vanilla extract

2/3

cup

unsweetened shredded coconut

2

cups

all purpose flour

2 1/2

cups

instant oats

1/2

teaspoon

salt

1

teaspoon

baking powder

1/2

teaspoon

baking soda

1/2

teaspoon

ground cinnamon

8

oz

semi-sweet chocolate

cut into chunks

1/2

cup

nutella

chilled
Instructions
Preheat an oven to 350 degrees F. Spread the coconut on a small baking sheet and bake for 7-8 minutes, until coconut is golden brown and fragrant. Remove from the oven and allow to cool.

In the bowl of a stand mixer fitted with the paddle attachment, beat the butter until smooth. Scrape down the sides of the bowl and add both sugars. Beat on medium speed until fluffy, scraping down the sides of the bowl as necessary. Add eggs one at a time, beating between each addition. Add the vanilla and beat until very smooth. In a separate bowl, combine flour, oats, baking powder, baking soda, salt and cinnamon. Stir to combine. Add the coconut and chocolate to the flour mixture and dump all the dry ingredients into the wet. Mix on low just until everything comes together and all the flour is incorporated.

Take a large scoop of cookie dough and flatten it into a disc. Place 1 teaspoon of the chilled nutella in the center and bring the cookie dough around it to seal the nutella in. Flatten the cookie slightly and place on a parchment lined baking sheet. Repeat until all the cookie dough has been portioned. Transfer the baking sheet to the fridge and chill for 2 hours.

Preheat an oven to 375 degrees F. Line a second baking sheet with parchment paper and bake 6-7 cookies per sheet. Bake for 20-22 minutes, rotating sheets once during baking (moving top baking sheet to the bottom rack and moving the bottom baking sheet to the top rack), until the edges of the cookies are golden brown. Remove from the oven and allow to cool for 15 minutes before transferring cookies to a cooling rack.
Notes
Instant oats in this are necessary for the texture. If you only have old fashioned oats, just throw them into the food processor and pulse a few times to make the pieces smaller.

Chocolate chips are just not as good in cookies as chopped chocolate. Buy a couple of good bars of semi sweet chocolate and just roughly chop them using a sharp knife.
The cookie dough can be frozen and baked from frozen, simply add 3-5 minutes of extra baking time to compensate.
You can omit the coconut if it's not your thing.
You might also like...