lemon-chamomile gin fizz
lemon-chamomile gin fizz
It's almost the new year, folks! I am constantly in awe by how quickly this year went by and it's so fun to celebrate the year with a cocktail, like this lemon-chamomile gin fizz. It's always a tradition for me and my husband on New Year's eve to compete against one another in a burger cook-off while drinking cocktails. It's silly, and I have no idea how it started, but it's our thing. One of my goals for 2019 is to post more cocktail recipes because I absolutely love mixology. It's like cooking but for drinks and there is so much fun and creativity that goes into it.
For NYE, I knew that I wanted a gin cocktail because a friend who visited recently brought us a bottle from my favorite distillery in San Diego. If you're ever out that way, please check out You & Yours! Not only do they have an outstanding selection of unique gins (no more old man gins that are way too heavy on the juniper), but they have a gorgeous space and a really incredible cocktail program. With their gin in hand I knew I had to create a cocktail that was light and feminine with citrus and floral notes.
Lemon is one of my favorite flavors in a cocktail, and I have a huge bag of dried chamomile flowers. Ergo, lemon-chamomile gin fizz! It's super fun to make, especially when you see the foam rise to the top after adding the sparkling wine. It's a great cocktail that is sure to impress at any NYE soirée!
A couple of notes about this recipe:
Some people might be freaked out by using a raw egg white, but I can assure you it's perfectly safe. Make sure you are using pasteurized eggs (preferably some good organic ones). The alcohol in the drink makes the possibility of getting sick extremely unlikely.

Use a gin that you like. I only recommend using a floral or citrus forward gin in the drink because I think that's what pairs best with the other ingredients but it really all comes down to what YOU like.

I mention double straining the drink in the method. Not only do you strain it from the cocktail shaker, but I also strain that through a small, mesh strainer into the glass which will catch any lemon seeds or weird bits of egg white. The cocktail set below comes with everything you need to complete your home bar!
Prost!
Products I used in this recipe:
VonShef Parisian Cocktail Shaker Barware Set in Gift Box with Recipe Guide, Cocktail Strainers, Twisted Bar Spoon, Jigger, Muddler and Pourers, Copper, 9 Piece Set, 17oz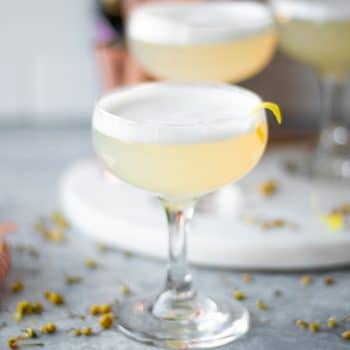 lemon-chamomile gin fizz
This is such a swanky and fun cocktail, perfect for a party!
Ingredients
Lemon-Chamomile Syrup

1

lemon

1

tablespoon

dried chamomile flowers

1/2

cup

sugar

1/3

cup

water

Gin Fizz

3

oz.

floral gin

such as Hendrick's

1

oz.

lemon-chamomile syrup

juice of 1 lemon

1

egg white

6

oz.

sparkling wine or prosecco

ice
Instructions
To make the syrup: peel the rind off of one lemon taking care to not peel too much of the white pith (very bitter), save the rest of the lemon. Add the peel, chamomile, sugar and water to a small saucepan and simmer until the sugar as dissolved. Let the syrup steep until cool. Blend the syrup and strain through a mesh strainer. Keep in an airtight container until ready to use. Syrup will last 1 week.

To make the cocktail: In a cocktail shaker add gin, syrup, egg white and the juice from the lemon that was peeled earlier for the syrup. Place the lid on the shaker and shake for 30 seconds. Remove the lid, add a little ice, replace the lid and shake for another minute (yes, a full minute). Double strain the cocktail and distribute evenly into two chilled 7 oz coupe glasses. Top each cocktail with 2-3 oz of sparkling wine or prosecco. The effervescence helps bring the egg white froth to the top. Garnish with extra lemon peel.
You might also like...