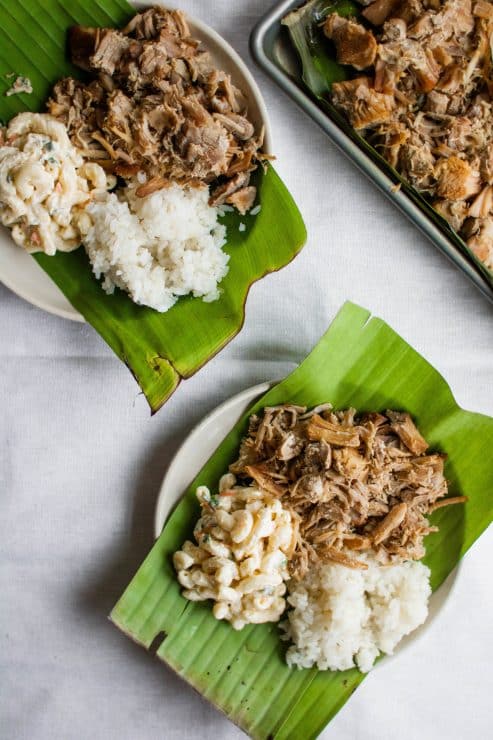 instant pot kalua pork with hawaiian mac salad
instant pot kalua pork with hawaiian mac salad
I'm embarrassed to admit that for a long time (before I ever tried kalua pork) that I thought kalua pork was made with the liqueur. Insert facepalm here. Nevermind the fact that both words are spelled differently. I know, I am embarrassing. But, what's not embarrassing is how good this instant pot kalua pork is!
Kalua actually means "to cook in a pit" which is how the pork is traditionally cooked. In a large pit in the ground, called an Imu, a wood fire is covered with stones to create a hot cooking surface and then lined with banana leaves or other vegetation before the pig goes in and is covered with more leaves and a layer of soil on top. Mesquite is the traditional wood used which imparts the traditional smoky flavor. While I would love to be able to cook traditional kalua pork this way, I would say that for most folks this isn't particularly feasible. So if you don't have an underground oven and 12 hours to smoke a pig, this recipe is for you!
While this abbreviated version isn't as good as the real deal, it does come pretty damn close and will crush that craving for smoky pork whenever it hits. Since the wood traditionally used is mesquite, you would think that mesquite liquid smoke would be best here but I find the flavor a little too strong and prefer to use hickory. If mesquite is your thing, go on and use mesquite liquid smoke! I'm all about tailoring recipes to personal tastes.
Now, the banana leaves are an important part and impart lots of really good flavor to the pork. You can omit them if you really want to, but I really like the flavor it adds. They are readily available at most Asian grocery stores or Hispanic grocery stores. Usually they come in large packages (still really inexpensive) but they can also be frozen and used to wrap tamales, grill fish directly on the leaves, wrap pork with for cochinita pibil, among the many other uses!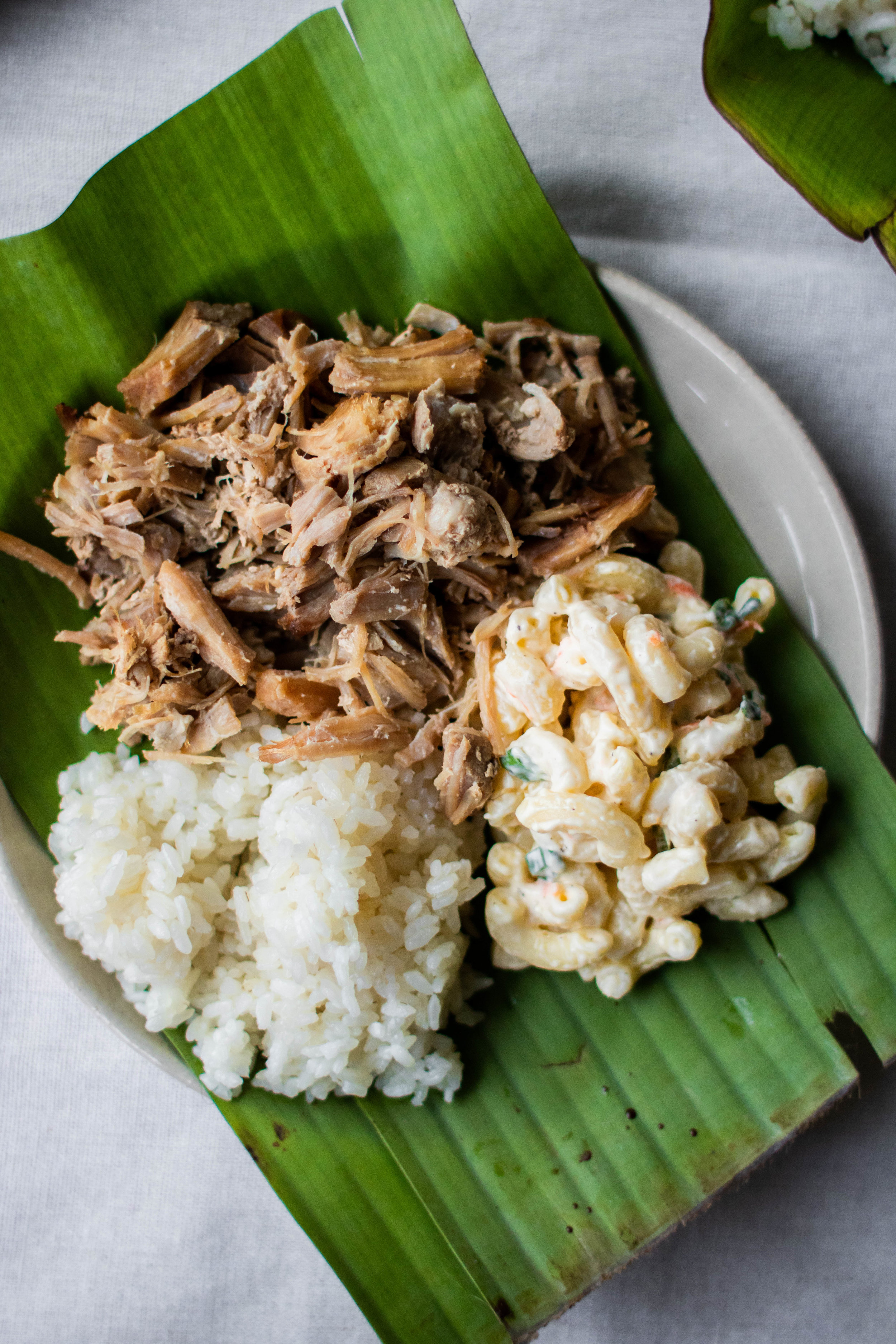 The macaroni salad is hands down my favorite side dish. I love going to a Hawaiian restaurant and getting pork or chicken with tons of this mac salad. I know the sauce is going to seem really thin, but as the macaroni cools in the sauce, it absorbs the liquid and thickens. There are a million ways to make mac salad but this one speaks to my personal preference. It's extremely simple, and I love it. Some people add peas to theirs, some add celery, etc. but I prefer just a hint of onion and carrot with a slightly vinegary sauce. Once you've got the base sauce recipe, you can add whatever you like to yours! I love seeing people be able to take a recipe and adapt it. That's what cooking is all about and truly what I want to help people accomplish: feeling comfortable taking the reins in their kitchen. Enjoy this instant pot kalua pork and mac salad! Happy cooking!
Products I used in this recipe:
instant pot kalua pork with hawaiian mac salad
If you love Hawaiian food, but you're nowhere near making it to Hawaii, this simple instant pot version is for you!
Ingredients
5

lbs.

pork shoulder or butt

cut into large chunks

1 1/2

tablespoons

hawaiian sea salt

2

tablespoons

liquid hickory smoke

banana leaves

1/2

cup

water

Hawaiian Mac Salad

12

oz

macaroni elbows

1 1/2

cup

mayonnaise

1

cups

milk

2

tablespoons

brown sugar

1/4

cup

white vinegar

1/2

yellow onion

grated

2

medium carrots

peeled and grated

1

bunch green onion tops

darker green parts only thinly sliced

1

teaspoon

salt

1/2

teaspoon

freshly ground pepper
Instructions
To make the pork: In a large bowl, toss together the pork with the salt and the liquid smoke and allow to marinate at room temperature for 30 minutes. Line your instant pot with banana leaves and place the pork in the center. Top with another banana leaf to create a little closed package. Pour 1/2 cup of water into the pot and lock the lid in place. Using the manual pressure cook function, set the pressure to 'high' for 1 hour and use the natural release function. Once the pressure has subsided, remove the lid and shred the pork. Keep the pork in some of the liquid from the pot to keep it from drying out. Serve immediately.

To make the macaroni salad: bring 4 quarts of water in a large pot to a boil and add 1 tablespoon of salt to the water. Cook the macaroni 2 minutes past the package instructions. While the pasta cooks, whisk together the remaining ingredients. Drain the pasta and rinse with cool water for 1 minute. Toss the warm pasta with the sauce in a large bowl, cover with plastic, and refrigerate for at least 1 hour. Adjust seasonings as necessary.
Notes
All my instant pot recipes are for a 6 qt instant pot. You can scale the recipe up or down if you have a larger or smaller instant pot.
Banana leaves can be found at the majority of Asian markets or Hispanic grocery stores.
You might also like...