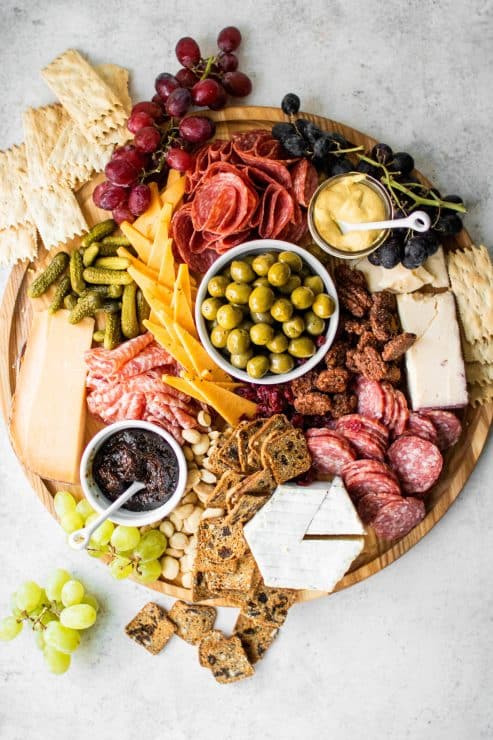 how to build a great cheese + charcuterie board
how to build a great cheese + charcuterie board
I've gotten a lot of questions over the years about how to build a charcuterie board. Cheese and charcuterie boards are hands-down my thing. Every gathering or party at my house, there is almost always one present. Sometimes my husband and I just put one together to eat for dinner on the couch—'cause we're fancy trashy. I've curated cheeses for some of the restaurants I've worked at and put together boards for our menus and there are definitely some helpful tips I've picked up along the way. When you see a board that is way over-laden with stuff, they can seem intimidating.
But all that filler is usually what's left on the board when everyone is gone. You don't need a million ingredients to create a successful board, you just need key principles of balance and complementary items. Check out my tips below and you'll be throwing together boards on a whim in NO TIME. Scroll to the bottom for my favorite ever chicken liver mousse recipe (great for gifts and always incredible on a charcuterie board).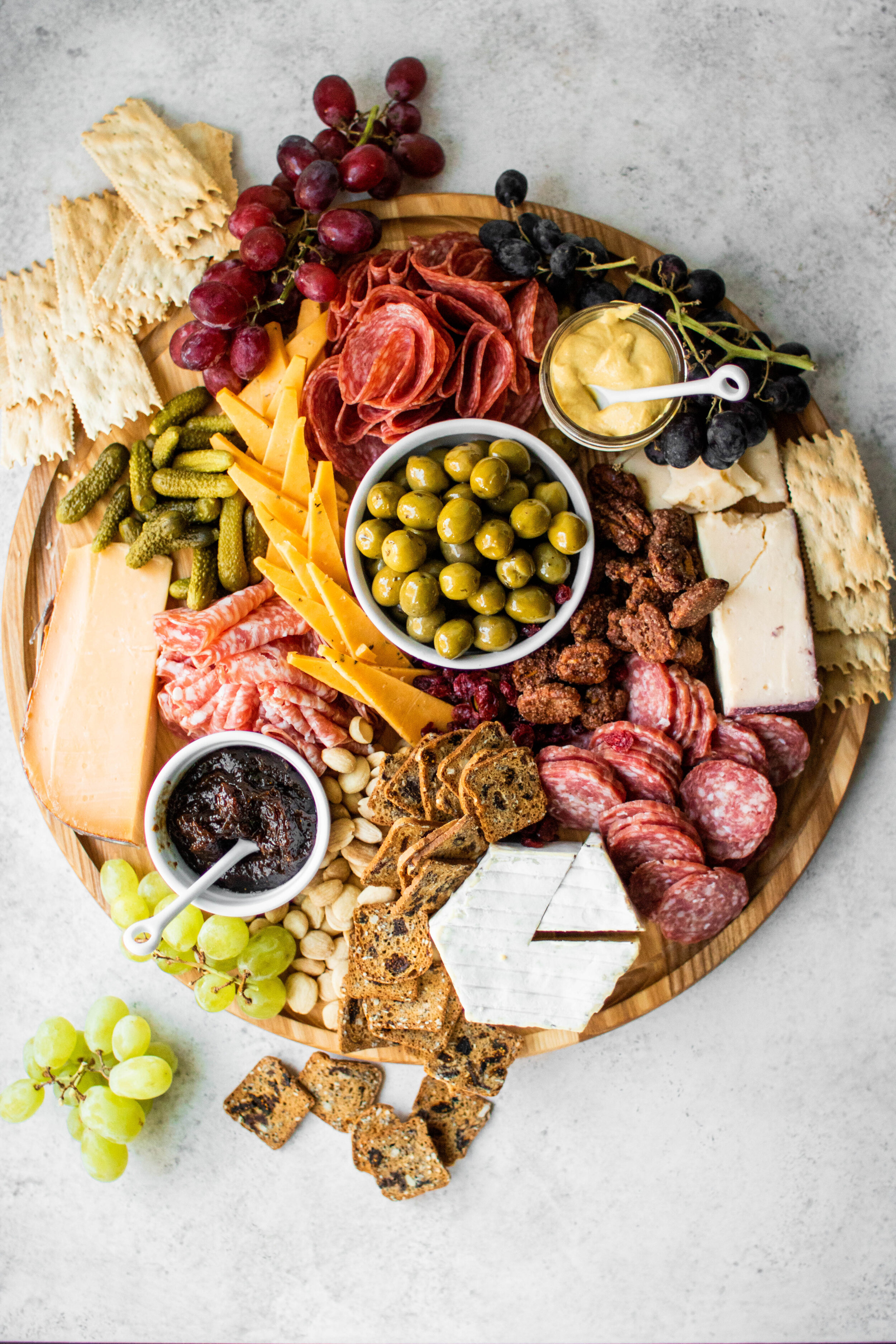 HOW TO BUILD A CHARCUTERIE BOARD
The first thing you have to determine is how much of each item you need to grab to feed your guests. A good rule of thumb is to plan for 2-3 ounces of cheese and meat per person if you're having other food as well. I would hike that up another ounce or so per person if you're just snacking on cheese and meat. For 6-8 guests, I would select a board around 12″ which gives room for meat, cheese, breads, and accoutrements. I usually opt for a really pretty wood board (check out these from Virginia Boys Kitchen) but you can really use anything. Sometimes when I'm having a large gathering, I just throw down some butcher paper on the counter and arrange on that—then I can use a marker to label all the cheeses which is always a super cute touch.
CHEESES
With so many great cheese and different varieties out there, it's really difficult to know what to choose! I like to just offer a variety of cheeses ranging from soft to very firm so that there are a variety of textures on the board. I usually shoot for 3-4 different cheeses for a board, and 1/4-1/2 lb each. Head to a cheese shop and speak with a cheesemonger if you're having trouble deciding. Whole Foods has a great selection if you don't have a cheese shop in your area and Trader Joe's is one of my favorites for affordable cheeses. Below are some of my favorites in each style.
Soft Cheeses: Brie (I always have brie on my board, usually a triple cream like Delice de Bourgogne), goat cheese (humboldt fog from Cypress Grove is one of my favorites), camembert, La Tur, Langres, Cowgirl Creamery Mt. Tam or Red Hawk
Semi-Soft Cheeses: Port Salut, Havarti, Blue cheeses (I usually don't throw this on unless I know my guests are fans because it's arguably the most polarizing cheese), softer cheddars (like my favorite, Red Dragon), Fontina, Drunken Goat, Beehive Cheddars (Sea Hive, Tea Hive, Barely Buzzed, Big John's Cajun, etc.)
Semi-Firm Cheeses: Manchego, Comté, Emmental, younger Goudas, Appenzeller, Gloucester (such as Cotswold, an english cheddar-like cheese with chives), Mahón
Firm Cheeses: aged Gouda (such as beemster xo), aged Cheddar (like clothbound varieties), Midnight Moon (goat's milk Gouda from Cypress Grove), Mimolette, Dry Jack (aged monterey jack), Parmesan
MEATS
I like to add maybe 2-3 varieties of charcuterie to the board to complement the cheeses. I'll usually select something spicy and something mild. If I'm really trying to add special touches, I'll make something from scratch too like a rillette or liver mousse.
Salamis: Calabrese, Soppressata, Toscano, Chorizo, Pepperoni, Finocchiona, Genoa
Mild: Prosciutto, Pancetta, Bresaola, Serrano Ham
Others: Liver mousse, pâté, rillette
Chicken Liver Mousse:
makes 8 4oz jars
1/2 lb. chicken livers, rinsed and cleaned of veins
2 cups buttermilk
2 tablespoons unsalted butter
1 shallot, diced
2 garlic cloves, minced
1/4 cup brandy
2 tablespoons dijon mustard
2/3 cup heavy cream
1/2 teaspoon cure salt #1
3/4 lb (3 sticks) unsalted butter, diced and cold
1 1/2 teaspoons salt
1/4 teaspoon white pepper (optional)
Place the cleaned livers in a small container and cover with buttermilk. Soak overnight in the refrigerator (helps mellow the flavor). Remove livers from buttermilk, rinse and pat very dry.
Heat 2 tablespoons butter in a skillet and add livers once butter is hot and foamy. Cook for 2 minutes, flip, cook another 30 seconds and remove from pan to the carafe of a blender. Add the shallots and garlic to the pan and cook until soft. Add brandy, dijon, cream and cure salt. Cook for 2-3 minutes until slightly thickened. Pour pan contents over the livers and run the blender on low. Add butter in a couple of cubes at a time until all the butter is added and the mixture is very smooth. Add salt and pepper and taste in case you need to add more. Pour mousse evenly between clean jars and cover with plastic wrap. Chill until firm. You can top with a layer of duck fat or bacon fat which will help preserve them. They last about 1 month in the fridge.
BREADS AND CRACKERS

I like to have a variety of items to serve with the board. If I have the time, I love to make my own crusty bread (try this recipe for easy overnight sourdough!). Otherwise, a good baguette is always a perfect addition. I also like a couple different crackers like rosemary flatbread crisps, raincoast crackers, or Milton's everything crackers. No lie, Trader Joe's has the best crackers selection!
ACCOUTREMENTS
Fruit:
Depending on the season, I love to incorporate fresh fruit into my board. I try to stay away from apples and pears since they oxidize and look really ugly on a board after they turn brown. I love berries, persimmons in the fall/winter, nice grape varieties (like concord, black globe, or champagne grapes), fresh figs (tiger stripe are AMAZING), pomegranates, and cherries. Dried fruit is always a great option as well like figs, cranberries, and apricots.
Salty/Briney:
Having salty items on a board provides really nice contrast to the meat and cheese. I always opt for some varieties of olives like kalamata, cerignola, spanish green olives, etc. I also like to use salted roasted nuts too for some crunch. My favorites are marcona almonds (try truffle marcona almonds!) and cashews but really anything will work! I sometimes even opt in for candied nuts depending on the cheeses. Caper berries are also a really nice briney treat.
Pickled:
This one to me is extremely important! When you have rich, fatty cheeses and meats the acidity from pickled things really helps to complement your board. I love cornichons (tiny pickles) or really just any pickle, pickled veggies, pickled peppers (like peppadews!), and marinated artichoke hearts.
Spreads:
The condiments are equally important! I like to have a couple of sweet items like honeycomb and fig jam and a mustard or two for the meats (I usually do a dijon and a whole grain mustard). Some nice fruit preserves never go amiss, either! I generally make sure to have my condiments and spreads in little bowls or separate from the board so that my guests can choose how to apply them.
SERVING
If you've got cheese knives, great! Throw em on there and let your guests cut their own cheeses, If not, I usually just put out a small knife or two for the softer cheeses and I pre-cut some of the harder cheeses in wedges or cubes for easy serving. I also put little spoons wherever there are condiments present.
Always serve your board at room temperature! The cheeses will be way more flavorful if they're a little warmer rather than if they came straight from the fridge. If you're having a party, you can build your board in the morning, cover it with plastic, throw it in the fridge and pull it out about 45 minutes before guests arrive and BOOM! You're in business. Just leave off any of the crunchy items (like crackers and the like) because they'll get soggy.
Congrats, you're now a cheese board pro!
ASSEMBLING THE BOARD

Start with your board (obviously). I use a wood board that is a large circle (17.5″) but any shape works. If your wood is sealed, you can put the cheese directly on it. If it's not, either make sure you are using a food-grade mineral oil to treat the board or throw some parchment paper on top and it makes for really easy cleanup.
I always start with cheeses first. If it's a soft cheese, I leave it whole and make sure I have a cheese knife or butter knife with it for guests to cut off pieces themselves. If it's a firmer triangular cheese, I cut it into slices and arrange it. If it's a hard or aged cheese like gouda or parmesan, I kind of leave the ring and crumble pieces off of the cheese into a small pile. If your board is a circle, I arrange 3 cheeses around the edge, and on one in the middle.
Next, I add meats to the board. On this board I opted for a thicker salami that I hand cut for a thicker texture and just kind of piled it up. One of the meats I just folded in half and arranged. One, which was a larger circle, I fold in half and then in half again and pinch the folded point so it stays together and then just arranged them on top of each other.
If you are doing olives or anything that's super oily, I usually put them in it's own little container so that oil doesn't leak all over the place. I do the same thing with spreads and condiments. I try to find little jars or ramekins to house them. So if I am using little jars, I arrange those on the board next.
To finish, I just arrange everything else around the cheeses, meats and bowls. I try to put accoutrements near the cheeses or meats I think they'd go well with. For instance, I will put little pickles near a spicy meat and a cheddar. I would put fig jam and nuts near a brie. Also, if you are using anything that is packed in juice, make sure to drain it well before putting it on the board. Then I finish by arranging crackers on the board, if there's space, or in a bowl on the side. Now you know how to build a charcuterie board like a pro!
PRODUCTS I USED FOR MY CHEESEBOARD
You might also like...