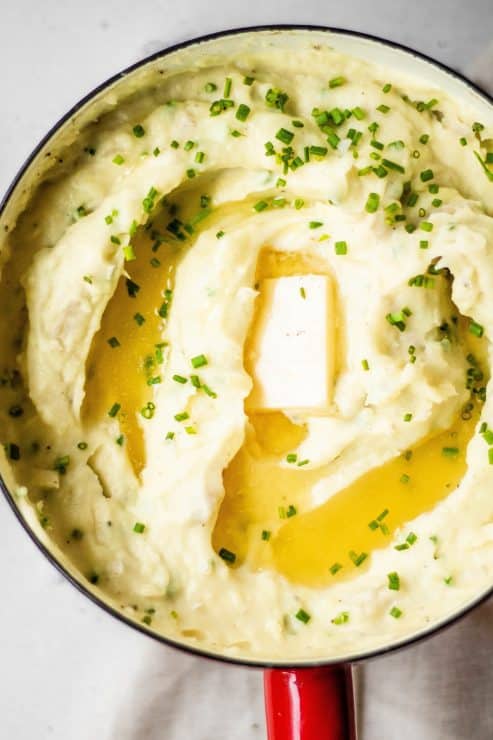 Creme Fraiche Mashed Potatoes
Creme Fraiche Mashed Potatoes
Everyone needs a go-to mashed potato recipe to whip out whenever the occasion calls for it. This recipe for creme fraiche mashed potatoes is my go-to! Sometimes I adjust it a little by adding roasted garlic or horseradish or different herbs, but the base recipe always stays the same.
These mashed potatoes only require 5 ingredients, but they'll be a showstopper whenever you serve them.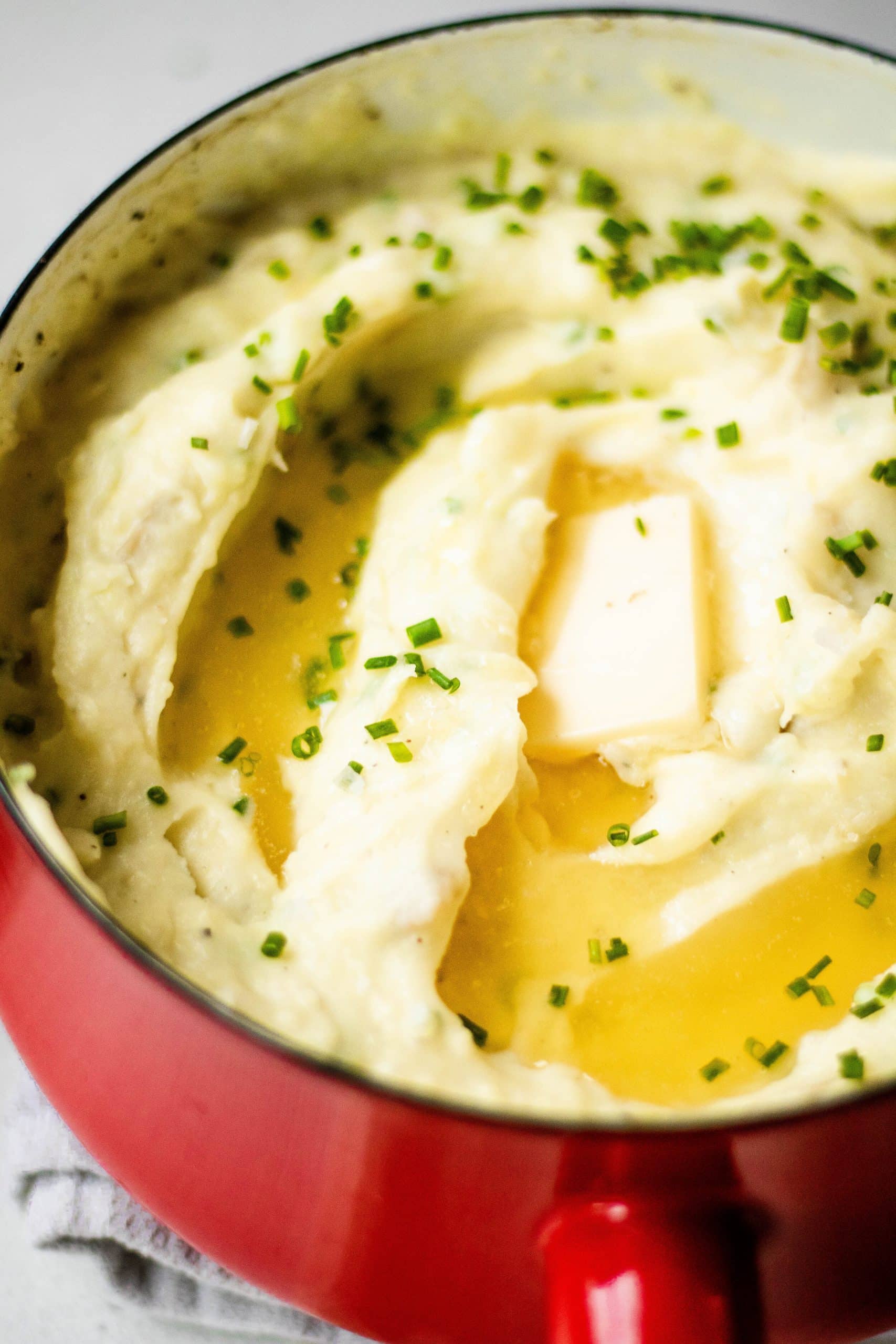 What is Creme Fraiche?
You may also be wondering what crème fraîche is and how it differs from sour cream. Crème fraîche is basically the French equivalent of sour cream but it's richer, has more milk fat and has no additives or thickeners the way that sour cream does.
It's luscious with a slight tangy flavor (much less pronounced than the tang of sour cream) and just makes the most dreamy mashed potatoes. My favorite brand is Bellwether Farms and you can find it easily at most well-stocked grocery stores including Whole Foods, Trader Joe's, HEB, Central Market, etc.
How to make Creme Fraiche Mashed Potatoes
These mashed potatoes couldn't be easier to make! It's a one-pot recipe that only takes about 20 minutes.
Tools Needed
Ingredients You'll Need
Yukon gold potatoes
Creme fraiche
Heavy Cream
Salted Cultured Butter
Minced Chives
How to keep Mashed Potatoes from turning Gluey
The key is to make sure you add the ingredients to the potatoes while they are very warm and to serve immediately so you don't end up with gluey potatoes. Mashed potatoes should always be the absolute last thing you make so they are being served immediately before dinner starts.
You should also make sure your ingredients are warm (heavy cream) or room temperature (butter/creme fraiche) before adding them to your potatoes so they don't cool the potatoes down.
You can cube the potatoes and keep them in water ahead of time (just don't add the salt) and then start simmering them when space on the stove frees up.
More Potato Recipes to Try
This post contains affiliate links from which I receive a small commission at no additional cost to you. Affiliate links allow me to keep providing great recipes for free and I never recommend products that I don't love and personally own.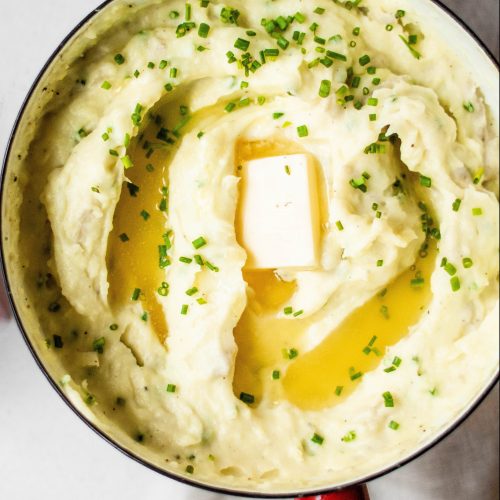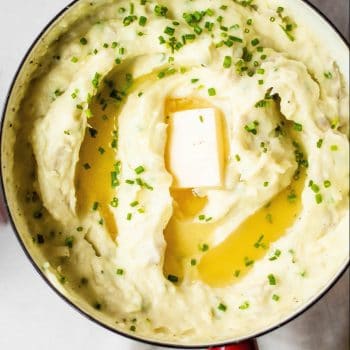 Creme Fraiche and Chive Mashed Potatoes
This is my favorite mashed potato recipe EVER! The creme fraiche adds so much creaminess to the potatoes and the perfect tang.
Ingredients
3

lbs

yukon gold potatoes

peeled or unpeeled and cubed

4

oz

(1 stick) salted butter, diced

8

oz

crème fraîche, at room temperature

3

tablesoons minced chives

kosher salt + pepper to taste

heavy cream, if needed
Instructions
Place the cubed potatoes in a medium pot with 1 teaspoon of salt and cover with cold water. Bring to a simmer over medium heat and simmer until potatoes are fork tender.

Drain the potatoes in a colander and return the potatoes to the pot they were boiled in. Add the butter to the pot with the potatoes. Using a potato masher or hand mixer (I use a hand mixer), gently mash the potatoes.

Add the crème fraîche to the pot and mix until mostly smooth. Add the chives and stir to combine. Taste before adding salt and pepper and add to your taste preference. If the potatoes are too thick, add a bit of heavy cream until they're your desired texture. Serve immediately.
Notes
This recipe can be doubled if needed.
Because there are so few ingredients, use the best quality butter and crème fraiche you can find. Most grocery stores carry crème fraiche and cultured butter but I usually get mine at Trader Joe's.
If you prefer to use a potato ricer for your potatoes, you can absolutely do that.
You might also like...