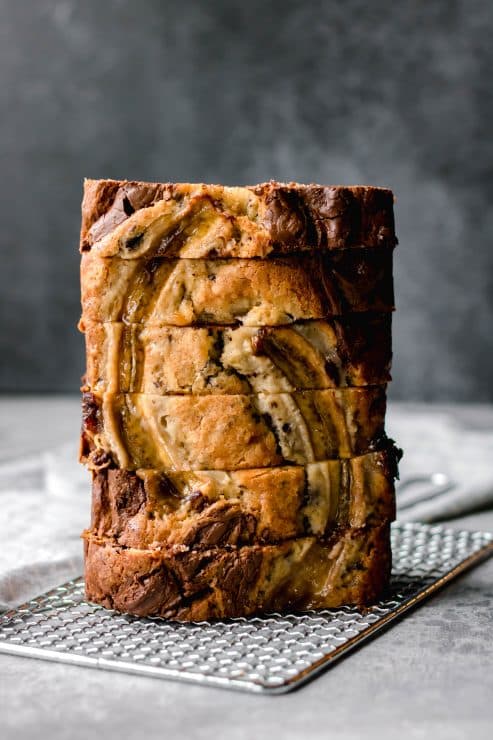 chocolate chunk banana bread with nutella
chocolate chunk banana bread with nutella
I find that I am continually "that" person who buys bananas every time I go to the grocery store. It's like I'm trying to convince myself that this will be the time I finish all five. It is never that time. It's like bananas are an enigma to me. They always sound good for purchasing in the moment, and yet I really can't bring myself to just eat a banana. And thus they get pawned off on my husband who struggles equally to finish them off. Why is it such a vicious cycle?! I can't really complain though because they have led me to chocolate chunk banana bread with all the nutella. In my opinion, a superior use for all bananas. Bananas should aspire to find their way into your kitchen just to become this banana bread.
It's actually great to have bananas in varying stages of ripeness for this recipe. Two super ripe bananas can go into the batter and one mostly ripe banana gets sliced in half for the top, because it looks pretty. I feel like banana bread started out trying to be healthy, but that ship sailed so freaking long ago that its existence is lost. Now, it's about how much chocolate and sugar we can cram into these bad boys and I'm honestly not even mad about it.
Couple of things about this recipe: it takes a while to bake, so keep that in mind. For a 9×5 loaf, it took mine just over an hour. Do not overfill your loaf pan (trust me, I've done it and ended up with batter all over the bottom of my oven). You are shooting for the batter to fill the pan about 2/3 of the way with the nutella. If you have extra batter, bake it in a muffin tin or small loaf pan if you have one. Don't use chocolate chips if you can help it. Chocolate chunks are infinitely better. I bought a large block of chocolate and chopped bits off, I really like the varying sizes, but you can also purchase chocolate chunks at the store. Have fun with this recipe! Leave any comments or questions at the bottom of the page!
chocolate chunk banana bread with nutella
If you've got bananas ripening on a counter, this chocolate chunk banana bread with nutella is the perfect use for them!
Ingredients
6

tablespoons

3 oz unsalted butter, at room temperature

1

cup

granulated sugar

3

medium bananas

(2 very ripe, 1 just barely ripe), divided

2

eggs

1/3

cup

sour cream

1

teaspoon

vanilla extract

1 3/4

cups

all purpose flour

1

teaspoon

baking powder

pinch

of salt

4

oz

chocolate chunks

1/2

cup

nutella

2

tablespoons

turbinado or raw sugar

for sprinkling (optional)
Instructions
In a the bowl of a stand mixer fitted with the paddle attachment, cream together butter and sugar. Add the two very ripe bananas and eggs and mix until banana has been smashed up. Add sour cream and mix until combined.

In a separate bowl, mix together flour, baking powder, salt and chocolate chunks and toss to combined. Add dry ingredients to wet and mix until the flour is incorporated (do not overmix!).

Preheat your oven to 325 degrees F. Grease a 9x5" loaf pan. Fill pan 1/3 full of batter. Dot top of batter liberally with scoops of nutella and spread slightly to evenly cover top of batter. Cover nutella with batter until pan is 2/3 full. Take the remaining banana and slice in half lengthwise. Press banana, cut side up, into the batter. Dot the top with more nutella. Sprinkle banana slices with turbinado sugar. Bake until a cake tester comes out clean, about 60-75 minutes depending on your oven. Start checking bread after about 50 minutes. Cool slightly before removing from pan and slicing.
You might also like...