Caramelized Onion and Bacon Mashed Potatoes
Caramelized Onion and Bacon Mashed Potatoes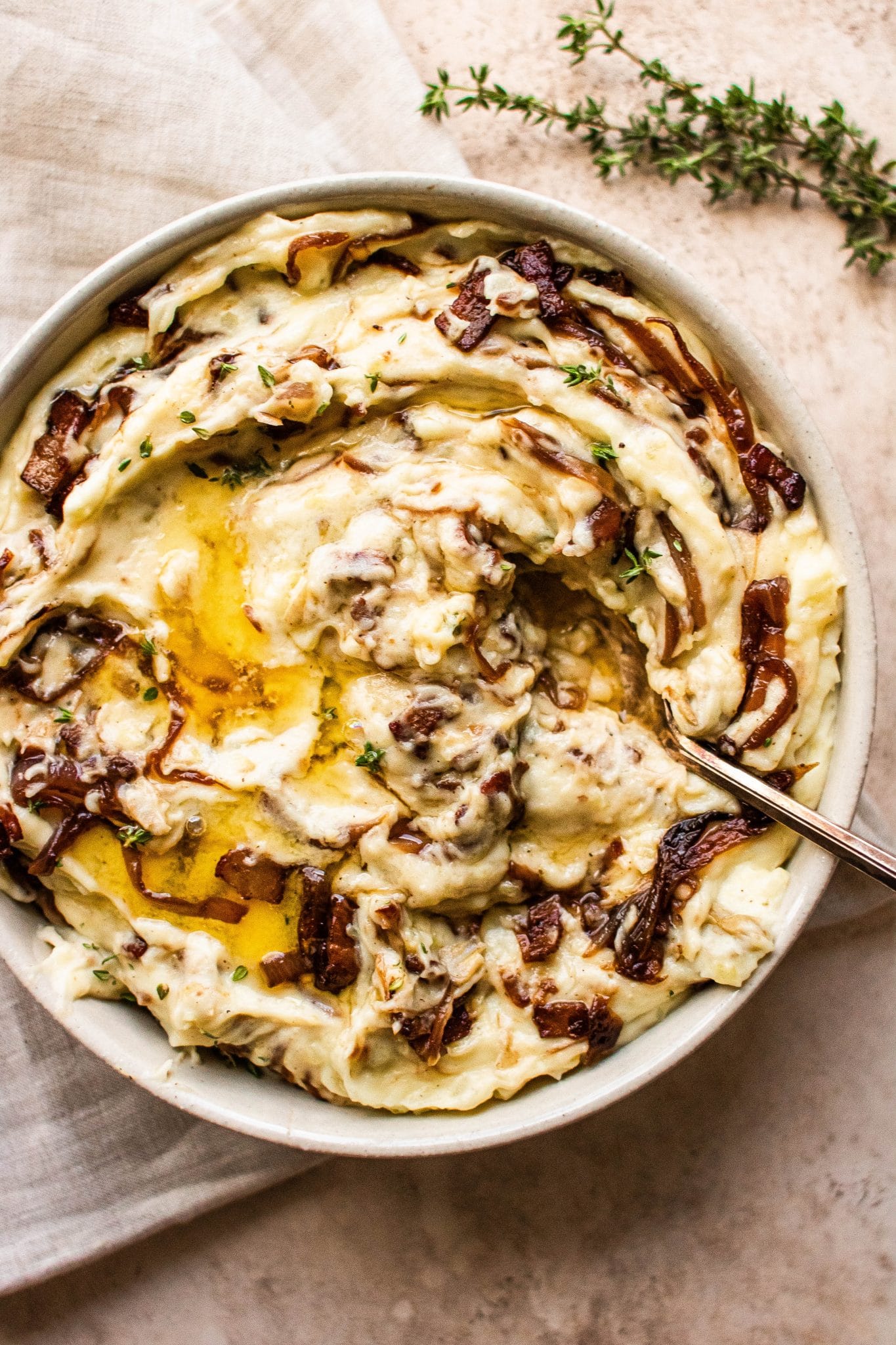 Okay, I've honestly done it. I've created the most delicious mashed potato recipe ever. Caramelized onion and bacon mashed potatoes! I love a simple potato recipe (you can find my creme fraiche mashed potato recipe here), but this recipe really surprised me.
If you are looking for a unique take on mashed potatoes to add to your Thanksgiving table, I can honestly guarantee that no one is going to complain about these.
What are caramelized onions?
All onions contain natural sugars, regardless of what type of onion you use. Caramelizing onions is simply cooking them low and slow and allowing those sugars to emerge; what you end up with are super sweet and savory soft onions.
In this instance, you cook bacon low and slow so that all the bacon fat melts, and then we cook the onions in the bacon fat (drool). I had a little red wine on hand, so I added some to the pan and WOW it made all the difference in adding so much more flavor. It also gave them a super pretty red color which makes the potatoes so pretty to look at.
How long does it take to caramelize onions?
Oh boy, it can take a bit of time. This is why I recommend making the caramelized onion and bacon jam ahead of time (up to three days ahead of time!). I found that all in all, between cooking and bacon and cooking the onions down, the whole process took about 45 minutes.
The nice thing is it's very passive work–you don't need to stir the entire time, just every now and then. Everything is cooked over low heat, so very little risk of anything burning. It's the perfect thing to make while you're multitasking with other things, just check in on it here and there.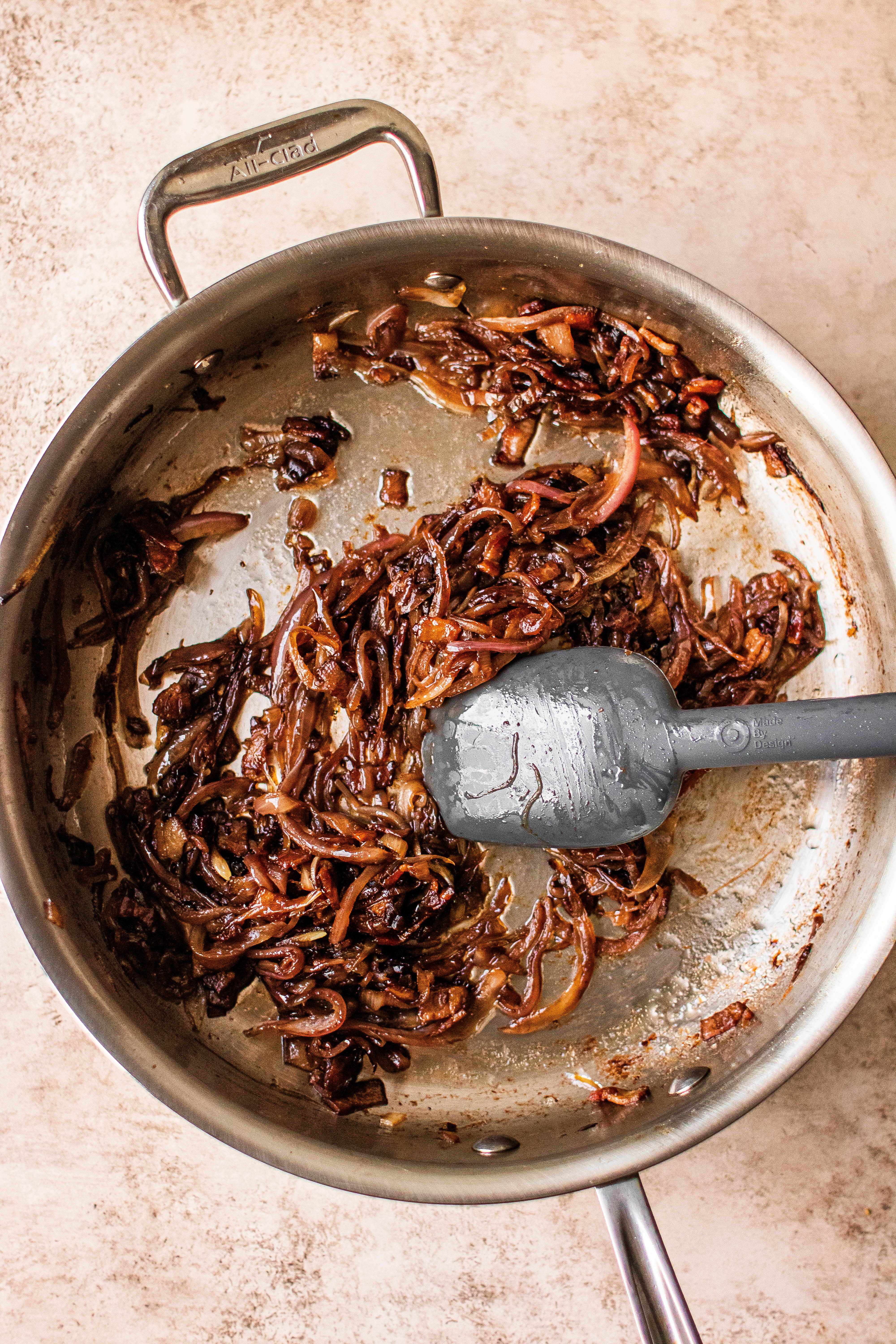 what's the best pan to use to caramelize onions?
I love this question! You want a wider skillet because you want to maximize the surface area that the onions and bacon are cooking on. I love my Lodge braiser (link to the pan here), but if you have a larger cast iron skillet or stainless steel skillet, either would work great.
how do you keep mashed potatoes from turning gluey?
I love this question! I struggled with this before I really knew what I was doing in the kitchen. Every year at Thanksgiving, I would make the mashed potatoes. Sometimes they were absolutely perfect, and other times they were gluey and thick–not a pleasant texture.
I found that warming your cream and butter before adding them to the mashed potatoes is ESSENTIAL. If you are adding ingredients straight from the fridge, especially if your potatoes have been sitting for a second, you are cooling everything down. This brings to me point #2: always have your mashed potatoes be the last thing you make before you sit down to eat. They are best made piping hot and this ensures the best texture.
Can you make these mashed potatoes vegetarian or vegan?
Vegetarian, yes! Simply omit the bacon and instead, cook the onions and shallots in 2 tablespoons of salted butter over low heat. I personally have never made vegan mashed potatoes. I love cream and butter! If you're looking for a great vegan mashed potato recipe, check out my friend Megan over at Short Girl, Tall Order! She just posted these gorgeous vegan mashed potatoes–give 'em a try!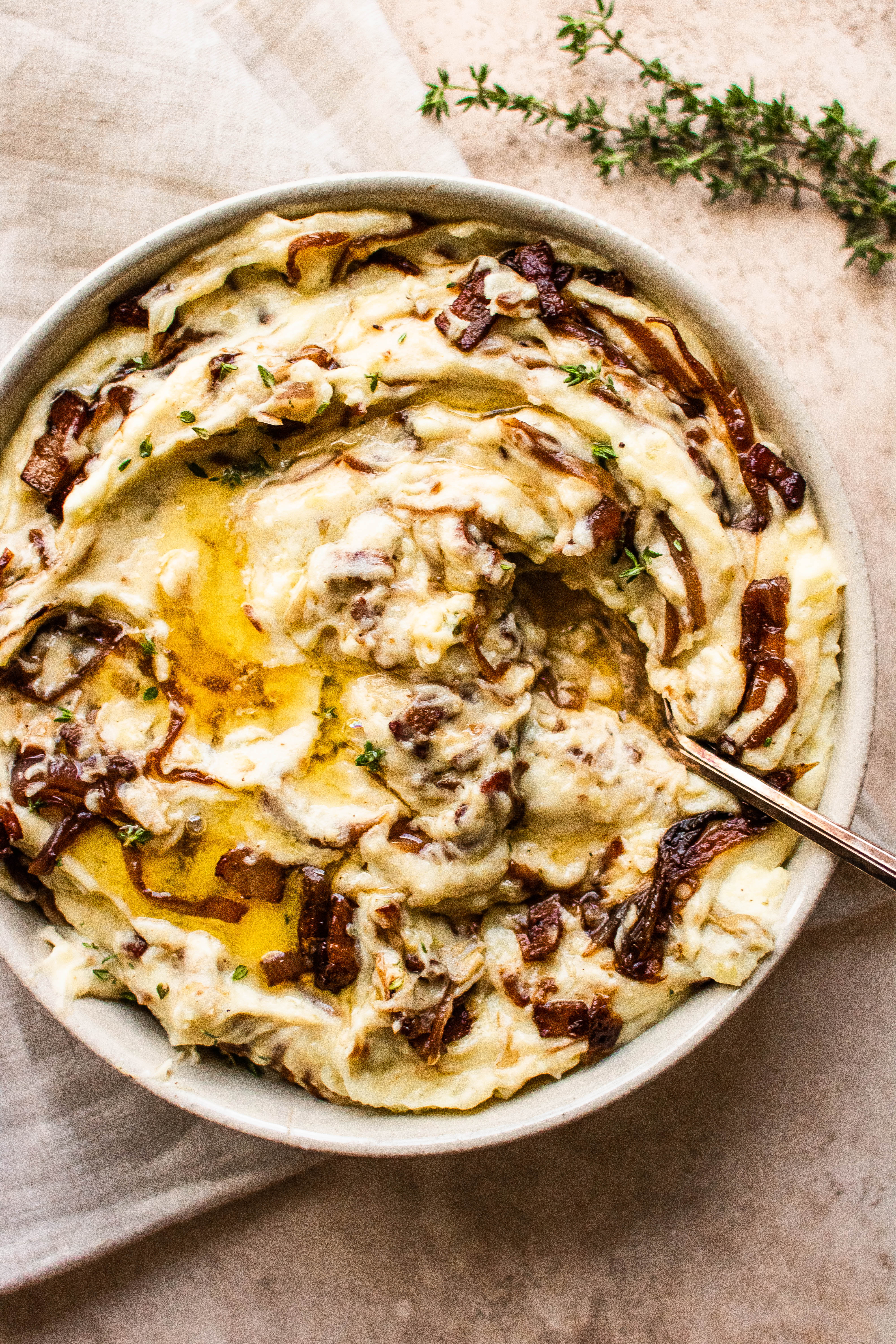 should you peel your potatoes for mashed potatoes?
That's up to you! I never do because it's honestly more work and I like the skins. If you want to peel them and you have the time, do it! They'll turn out delicious either way.
what's the best potato to use for mashed potatoes?
I don't know if this is a hot take or not, but I will always say Yukon Gold potatoes. Don't you dare use a russet potato! Those really should be reserved for baked potatoes only, IMO. My mom used to make them a lot with red-skinned little potatoes, which I like, but I will always and forever say gold potatoes.
Yukon Gold potatoes have the densest and most uniform flesh of the potato varieties. When cooked, they aren't grainy, watery, or mushy, which all happen to be qualities that ruin mashed potatoes instantly. And as an added bonus, Yukon Golds already have an inherent buttery flavor to them. Winning!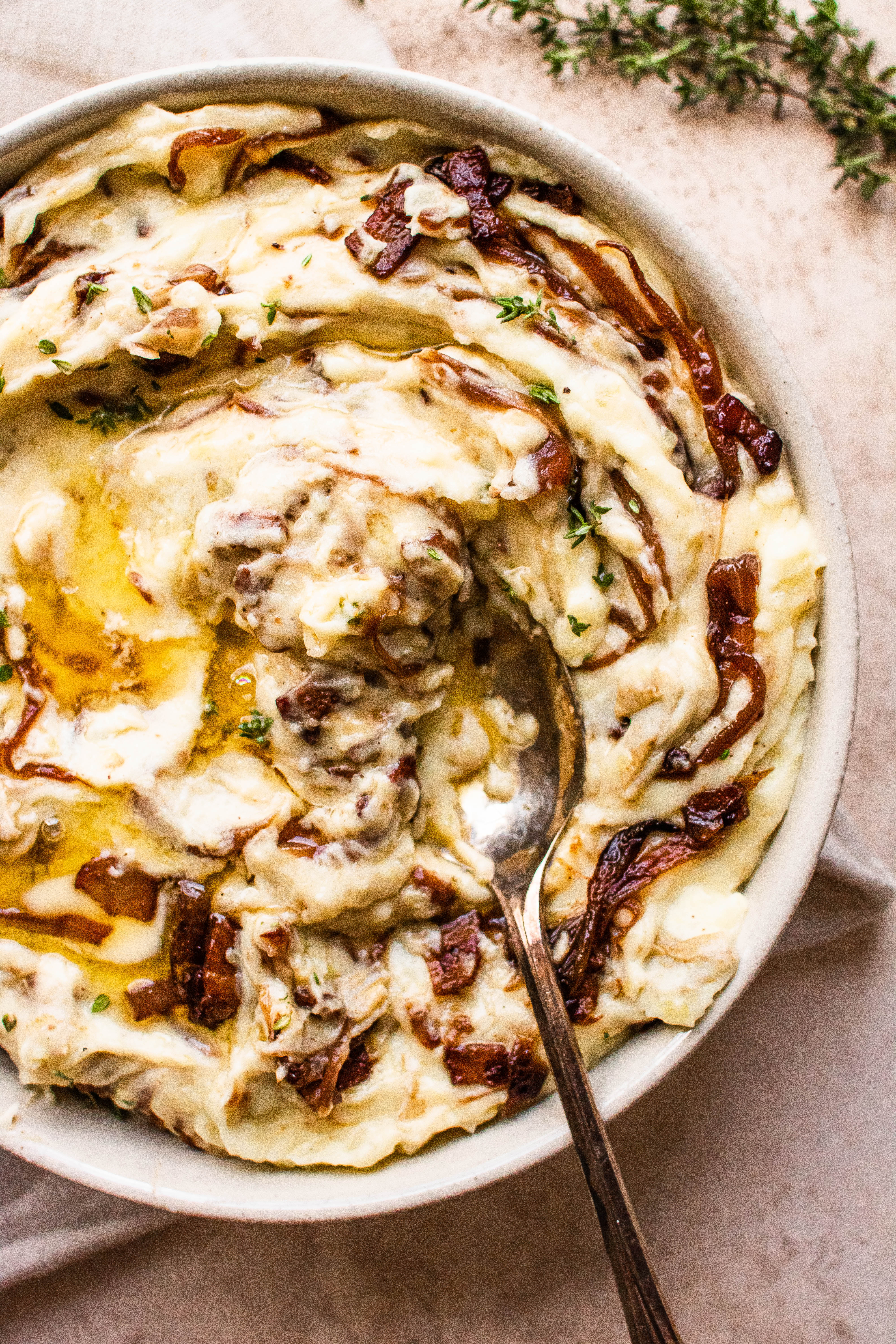 More Recipes to Try
This post may contain affiliate links from which I receive a small commission at no additional cost to you. Affiliate links allow me to keep providing great recipes for free and I never recommend products that I don't love and personally own.
caramelized onion + bacon mashed potatoes
Ingredients
Bacon-Onion Jam
4

strips thick-cut bacon

diced

1

red onion

peeled and thinly sliced

2

shallots

peeled and thinly sliced

1/2

cup

dry red wine

1

teaspoon

brown sugar

Kosher salt

to taste

Freshly cracked pepper

to taste
Mashed Potatoes
2

lbs.

Yukon gold potatoes

peeled or unpeeled, cut into quarters

1

cup

heavy cream

6

tablespoons

unsalted butter

diced

1/3

cup

sour cream

salt and pepper to taste

2

teaspoons

fresh thyme leaves
Instructions
To make the caramelized onion and bacon jam: add the diced bacon to a large, wide skillet. Turn heat on to low and cook, stirring occasionally, until the bacon is starting to get crispy and the fat has rendered (about 15 minutes or so). Add the sliced onions and shallots to the pan and stir to coat the onions in the bacon fat. Sprinkle the onions with a tiny bit of salt, increase the heat just slightly and cook over low heat, stirring occasionally, until the onions are soft and darker in color, around 25 minutes. Increase heat to medium-low and add the red wine and brown sugar. Simmer until all the wine is cooked off and the onions are very soft and caramelized. Season to taste with salt and pepper and set aside. The onions can be made up to 3 days in advance and kept in an airtight container in the fridge.

To make the potatoes: In a small saucepan, gently warm the cream and butter until the butter is melted. Add the caramelized onions to this mixture if you made them in advance. Keep warm.

Place the cubed potatoes in a medium pot with 1 teaspoon of salt and cover with cold water. Bring to a simmer over medium heat and simmer until potatoes are fork-tender. Drain the potatoes in a colander and return the potatoes to the pot they were boiled in. Using a potato masher or hand mixer (I use a hand mixer), gently mash the potatoes. Add the warmed cream and butter mixture and sour cream to the potatoes and mash until smooth. Add the bacon caramelized onions, fresh thyme leaves, and salt and pepper to taste and stir until smooth. Serve immediately.
You might also like...