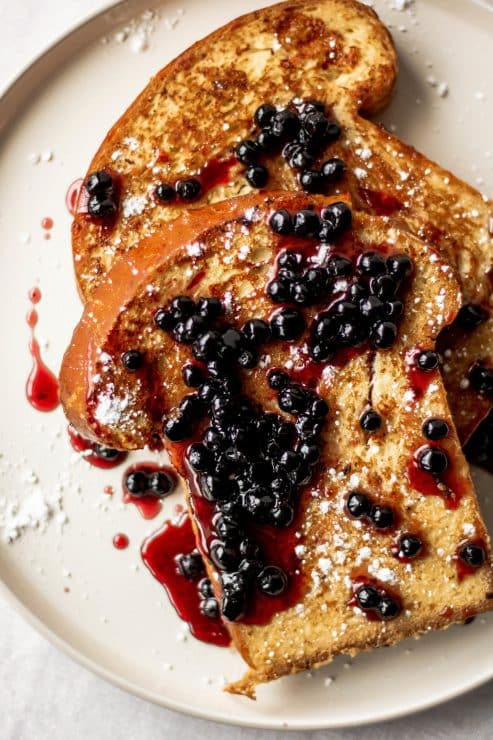 brioche french toast with wild blueberry-rosé syrup
brioche french toast with wild blueberry-rosé syrup
Is it even the weekend if you aren't making french toast? Inquiring minds want to know. French toast was always my favorite breakfast growing up, but I've since traded the sugary brunch dishes for salty, savory ones. These days I'm really an eggs, meat and potatoes kind of gal, but that doesn't mean that the allure of french toast is lost on me and I'm happy to enjoy a plate every now and then. Especially when I have freshly baked brioche bread. And if I have freshly baked brioche bread, I'm making brioche french toast with wild-blueberry rosé syrup.
There truly is nothing quite like the smell of freshly baked brioche perfuming your kitchen on a cold day. It's like the scent can warm you from the inside out. If you have never baked your own brioche, I highly recommend you do so ASAP! It makes amazing sandwiches and grilled cheeses too. But anyway, back to french toast.
Possibly one of the easiest breakfasts you can make on a weekend, but so warm and satisfying. You can really use any bread for this recipe, but a denser bread like brioche or challah truly is the best, in my opinion. And sure you could just make the french toast, slather some butter, drizzle some syrup and be done with it. But why would you want to miss out on the wild blueberry-rosé syrup?! Giving new meaning to rosé all day for your weekend brunch.
If you've never had wild blueberries, they are going to blow your mind. They are much smaller than regular blueberries, but what they lack in size they make up for in their sweet, tangy flavor and huge punch of antioxidants. They're difficult to find fresh, so I used dried in the syrup (found at Trader Joe's) but you can also use frozen wild blueberries or just regular fresh or frozen blueberries (see notes at the bottom of the recipe if you're substituting in a different type). The rosé adds nice acidity and once you've opened the bottle you might as well have a glass with your brunch. I mean, it's only right. So use up that bread and enjoy brunch and a glass of rosé in bed, you deserve it.
brioche french toast with wild blueberry-rosé syrup
Saturdays are made for french toast and once you've had this wild blueberry-rosé syrup, you'll never want anything else!
Ingredients
Brioche French Toast

8

slices

brioche bread

2

cups

half & half

1/2

cup

brown sugar

1/2

teaspoon

ground cinnamon

4

eggs

1

teaspoon

vanilla bean paste

4

tablespoons

butter

Wild Blueberry-Rosé Sauce

8

oz

dried wild blueberries

1/3

cup

sugar

1/2

cup

rosé wine

1/4

cup

water

1

teaspoon

vanilla bean paste

1

teaspoon

cornstarch

Vanilla Bean Whipped Cream

1/2

cup

heavy cream

1

tablespoon

powdered sugar

1

teaspoon

vanilla bean paste
Instructions
To make the blueberry syrup: In a small saucepan, mix together the blueberries, rosé, water, sugar and vanilla. Bring to a simmer and lower the heat. Cook until the blueberries have started to plump and the sauce is syrupy. In a small bowl, mix together the cornstarch with 1 tablespoons of cool water until the cornstarch is dissolved (this is called a slurry). Add the slurry to the blueberries and simmer until the sauce has thickened. Set aside until ready to use.

To make the whipped cream: Mix all ingredients together in a mixing bowl. Whisk vigorously until medium peaks form. Use immediately.

To make the french toast: In a mixing bowl, whisk together half & half, sugar, vanilla, eggs and cinnamon until very smooth. Transfer to a shallow dish. Heat a cast iron skillet or a nonstick skillet over medium heat. Dip a piece of brioche into the egg mixture and coat both sides well. Melt 1 tablespoon of butter in the pan and place the soaked brioche in the pan. Cook 2-3 minutes on each side, until golden brown. Repeat with the remaining bread, only adding more butter to the pan as needed. Whisk the egg mixture between pieces of bread to re-incorporate the cinnamon and vanilla which will fall to the bottom. Serve warm topped with blueberry-rosé syrup and whipped cream.
Notes
Any bread can be used for this but brioche and challah are my favorites. Make sure you use slices that are at least 1 inch thick.
Dried wild blueberries can be found at Trader Joe's. You could use fresh or frozen blueberries, but I would up the sugar to 1/2 cup, omit the water, and use 1 tablespoon of cornstarch mixed with 2 tablespoons of water.
You might also like...